Council Talks Water War, Living Wage, and McIntire Park
Posted:
Updated: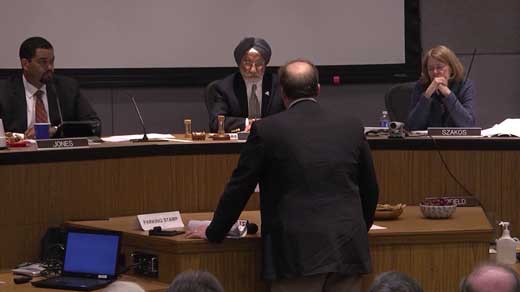 Monday night, Charlottesville City Council sounded off on a water war between the city and a new Albemarle County development, raised the living wage, and voiced concerns over new plans for the east side of McIntire Park.
Business owners in the Seminole Square Shopping Center have a big worry that a huge pipe that streams water from the new Shops at Stonefield development will flood their properties. Monday night, city council upheld the city's planning commission's recommendation from last week, that Stonefield is in violation of a permit related to their storm water runoff.
But this decision is just a part of a larger issue about where their water will be held and who could be left under water in the event of a storm. Seminole Square business owners say a 72 inch pipe that runs under Route 29 from the new Stonefield development will bring too much stormwater runoff to a water basin on the property.
Seminole Square lawyer Frederick Payne said, "The county simply hasn't done its homework in terms of protecting the businesses on the east side of 29."
Monday night, Steve Boyle, the managing director of Edens & Avant, the developers of Stonefield, said, "We really think we've complied with everything that's been asked of us and we haven't tried to divert or bypass, other than the water. All of the issues that have come up we have dealt with, every single one of them head on."
"Litigating this, in my opinion, would be wasteful, and inefficient... the objective for everybody really outta be to solve this drainage problem in a way that serves everybody's interests," said Payne.
Charlottesville City Council also voted to raise the living wage for city employees $13 per hour for lowest wage employees, retro-active effective on July 1.
In addition, council reviewed the master plan for McIntire Park. Council voiced some concerns, the biggest being closing the golf course and its effect on the First Tee program. Council sent their concerns back to Charlottesville's Parks and Recreation Council for review.