New "Master Bait Shop" Has Town of Orange Talking
Posted:
Updated: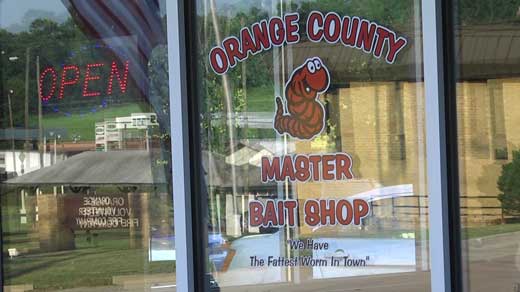 Some neighbors in the town of Orange say a new business is not welcome, and it's not because of what they're selling, it's because of their name. The name has some people giggling and others infuriated.
"The name is Orange County Master Bait Shop," shop owner Michael DeClue said. DeClue says he chose it to be memorable. He says whatever innuendo people want to make out of it is their business.
The bait and tackle store is just about two weeks old, and it already has everybody talking, but people aren't talking about the great selection or the low prices, they're talking about the name.
"People are taking the master and also the bait shop and combining them together into a word that's not actually spelled on our business name," he said.
DeClue says, in retaliation, someone unplugged his cooler full of live bait, at a loss of $1,300. Others have complained about the name to town council. Despite those complaints and allegations of vandalism, DeClue says he is not changing a thing.
"That's the name that we chose and that's the name we want to stick with," he said.
The topic came up at Monday night's town council meeting. The town's mayor says there isn't much they can do, and they're happy to have him. "You're not in violation of any ordinance. God bless you for being in business in the town of Orange," Mayor Chuck Mason said.
That means the self-proclaimed "home of the fattest worm in town," will stay open.
"We're the only bait shop that makes its own chicken livers. We produce our own worms. We package our own worms, and that's what we do," DeClue said. "That's why we're a master bait shop."
One councilor expressed concern over the name but agreed there was not much they could do about it. The mayor says he welcomes the new tax revenues.