Christian Hackenberg's Busy, Two-Sport Summer
Posted:
Updated: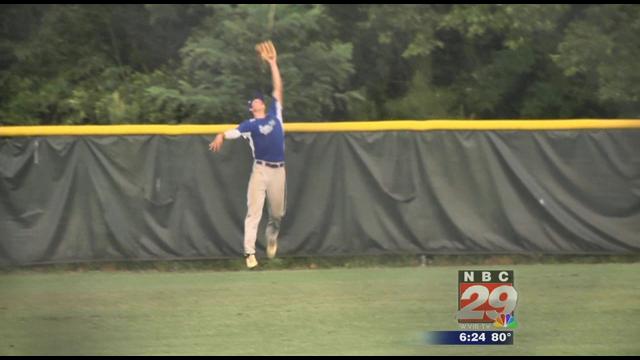 He's the top rated quarterback in the country in the class of 2013 according to ESPN.
Fork Union Military Academy rising senior Christian Hackenberg is in the midst of an unbelievably busy summer traveling around the country and playing two sports.
Hackenberg committed to play football at Penn State in February, choosing the Nittany Lions over offers from schools like Alabama, Florida, Miami, South Carolina, and Virginia.
The Fork Union native transferred from Fluvanna County High School to FUMA after this freshman year, and then led Fork Union to a state championship as a sophomore.
He earned first-team all-state and all-prep league honors in the process.
Rivals and ESPN rank the 6'4", 210-pounder as a four-star recruit.
Hackenberg can't wait to play in former New England Patriots assistant Bill O'Brien's offense at Penn State.
Despite all that's on his plate in football, Hackenberg is playing American Legion baseball this summer with Fluvanna County Post 2003.
He wants to keep his arm in shape for his senior year of baseball at FUMA where he played every position but catcher last season.
Baseball is the first sport he picked up when he was younger.
But his summer football camp schedule and gridiron talent is keeping him on the road, especially here in July, as he prepares for the country's top quarterback camp, the Elite 11.
"It's a little less crazy than last summer but definitely farther in terms of travel," said Hackenberg. "I was out in Oregon this past week and then Vegas for the Elite 11, and then I head out to L.A. for the Elite 11 finals next week. It's been pretty wild in terms of travel, but I've been enjoying it, a lot of opportunities to go out there and compete with the best. I'm always ready for football season. It sort of has me on edge with all these camps and stuff, just going out there and competing. I'm so ready to strap it up already. It's coming here sooner than I expected, and here on August 7th, we'll be in camp...looking forward to it."
Hackenberg is the first quarterback from central Virginia to make the final of the Elite 11 Camp since its founding in 1999. Tyrod Taylor, Phillip Sims, and Peter Lalich are among the other QBs from the Commonwealth to make the final cut.