Poll: Warner Would Win Governor's Race in Landslide
Posted:
Updated: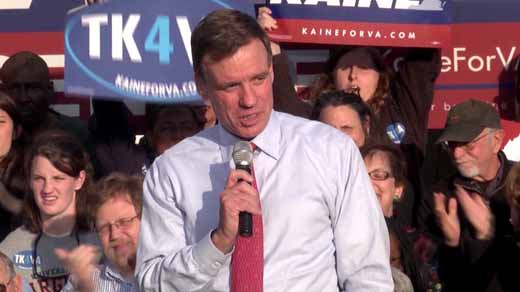 A new poll shows Democratic Senator Mark Warner could take back the governor's mansion next year if he wanted it.
Raleigh-based Public Policy Polling surveyed 647 Virginia voters last week, and among the dozens of questions listed, they asked this - "If the candidates for Governor next year were Republican (Attorney General) Ken Cuccinelli and Democrat Mark Warner, who would you vote for?"
The results - 37 percent said Cuccinelli, but 51 percent said Warner, and in a matchup between Lieutenant Governor Bill Bolling and Warner, Warner wins again by 15 points.
"Democrats are dreaming that they could somehow entice Mark Warner into the governor's race," UVA Center for Politics Director Larry Sabato said.
Sabato says Democrats will have a hard time convincing Warner to do it because he has higher aspirations.
"He has hopes of running nationally for president at some point," Sabato said. "It's easier to run from the Senate, which is continuous. You can run every six years, rather than from a one, four-year term governorship."
Of course, Warner was already governor once starting in 2002, but for state Democrats anxious to take back the governor's mansion, this poll suggests Warner is there best hope.
The same poll shows former 5th District Congressman Tom Perriello losing to both Cuccinelli and Bolling. Meanwhile, it shows former Democratic National Committee Chairman Terry McAuliffe narrowly beating Cuccinelli, but losing to Bolling.
"I don't know how Democrats get Mark Warner into the race, but he's certainly stronger than any of the other potential Democratic candidates," Sabato said.
A spokesperson for Senator Warner declined to comment on rumors he might run for governor again. Meanwhile Sabato points to history as a good indicator of which party will win next year. For every election since 1977, Virginia has voted opposite to which party is in the White House.