Internal UVA Emails Show Few Signs of Friction
Posted:
Updated: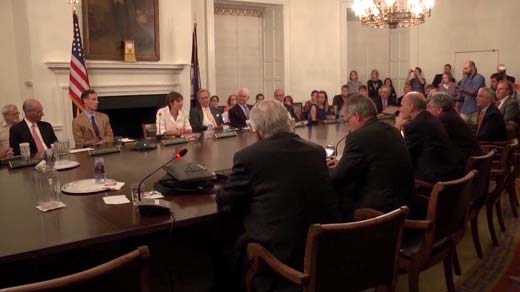 Newly-released internal emails between University of Virginia President Teresa Sullivan and Rector Helen Dragas shed new light on what happened just days before Sullivan's initial June resignation.
The emails show little sign of friction leading up to the announcement. As late as June 7, Sullivan
exchanged emails
between Dragas and then UVA Vice Rector Mark Kington. In one exchange, Sullivan forwards a
New York Times article
about a plan for two major hospitals to merge operations.
She writes to Kington, "There is a good lesson to learn here. What happens to residencies in relentless cost-cutting will be interesting to observe."
Just weeks later, Kington would resign from the board following allegations he was involved in a secret plan to get rid of Sullivan.
In another email dated May 18, Sullivan forwards the findings of a newly-released
National Research Council report
. The council, chaired by Sullivan herself, looked into ways of improving institutional performance in the face of declining public funding. Dragas responded to the email 15 minutes later writing - "Great press! I look forward to reading the report."
Of the emails released Thursday, what may be most telling is a strategy document Sullivan emailed to Dragas on May 3. In it, Sullivan says UVA "suffers from a reputation gap," adding, "in a number of critical areas we are reputed to be better than we actually are."
Sullivan recommends finding ways to retain professors in top-ranked, but admittedly unprofitable programs, like religious studies, Spanish and English, in an attempt to maintain the university's prestige.
Sullivan was reinstated following a massive public outcry. Governor Bob McDonnell reappointed Dragas last week, but the
UVA Board of Visitors
' bylaws say she can't serve as rector again. We could find out who the new rector will be as early as next week when the board gets together for a July 13 retreat.