SNAP Replaces Food Spoiled After Storms
Posted:
Updated: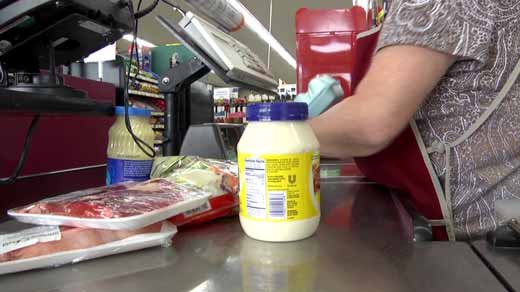 Thousands who were left in the dark after Friday's storms also lost all of their food.
For people who rely on the food stamp program - Supplemental Nutrition Assistance Program (SNAP) – that can be devastating. SNAP is now making sure the food lost is reimbursed.
Tammy, who wanted her last name to remain anonymous, is one SNAP user who lost power for more than four hours, and had to pitch out what used to be perfectly good food because of bacteria build up that could lead to food poisoning.
She was at a loss until Albemarle County Department of Social Services stepped in Thursday to make sure no one who relies on the program goes hungry.
On the first of the month, a monthly allotment is added to an Electronic Benefit Transfer (EBT) card from SNAP. Since most people who rely on the SNAP program lost the food they bought July 1, 2012 because of power outages, they can apply to have up to the entire monthly allotment reimbursed to buy new food.
Tammy said, "I look at so many people that don't have this opportunity - but I'm blessed to have it, and so I'm thankful for it."
Albemarle County Department of Social Services stressed that anyone within the SNAP program who lost power for more than four hours is eligible to get this assistance.
---
The NBC29 newsroom received the following statement from Lee Catlin on the food benefit replacement:
Albemarle County households may request a replacement for food that was
purchased
with SNAP (Supplemental Nutrition Assistance Program, formerly the Food Stamp Program) benefits
and
was subsequently destroyed in a household disaster.
The household
may
be entitled to a replacement. Important factors regarding a benefit replacement include:
The power outage was at least four hours in duration and;
The loss amount of food purchased with SNAP may not exceed the benefit amount for one month and;
The DSS (Department of Social Services)

must verify

the household's disaster. Please allow DSS sufficient time to complete this process.
If you've suffered a loss of food purchased with SNAP and your power was out for at least four hours, you should:
Contact Albemarle DSS at 434-972-4010 to request a Food Replacement form be mailed to you or you may pick one up at the agency or access it on line at http://www.albemarle.org/ (a copy of the form is attached for reference) and;
Sign the Food Replacement Request form attesting to the loss and return it to Albemarle DSS within 10 days of the reported loss.
In order to quickly serve our customers, we are requesting the Food Replacement form to be returned by July 15th. Benefits replacements will be processed as quickly as possible.