50th Annual Monticello Naturalization Ceremony
Posted:
Updated: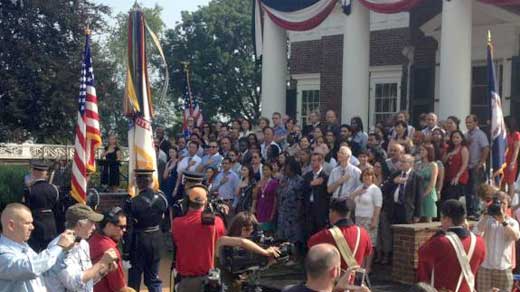 Our country made its fresh start 236 years ago. Wednesday, a group of excited new Americans are beginning their next chapter.
Eighty-four men and women from all backgrounds took an oath of citizenship at Thomas Jefferson's Monticello.
Joanne Scanlon once called Zimbabwe home. Wednesday, she can officially say this is where she belongs.
"It is an incredible honor and a privilege, and something you can't take lightly," she said. "I see the people in Zimbabwe right now and they have no say. They have no say in how their country should be run, and they are suffering."
That's why, after 18 years in the United States, she's proud to be officially American.
"We here, as United States citizens, have the privilege and the opportunity to take part in the government, governance of ourselves. And that's not to be taken lightly," Scanlon said.
She's one of 84 new Americans, hailing from 44 different countries. This is a particularly special year for the naturalization ceremony at Monticello - it's celebrating a half century of welcoming new Americans.
Kay Nimax is one of the first people to take the oath at Monticello 50 years ago.
"I think it means even more being here at Monticello in the house of a president. That means a lot more," she said.
After all of these years, this reminds Nimax of why she's still proud to be an American.
"When we go home, they don't say 'Kay is coming home,' or 'the boys coming home,' they say 'our Americans are coming,' and that makes me really feel proud," she said.
Gold medal-winning gymnast Nadia Comaneci, a naturalized American citizen herself, delivered the keynote address at Wednesday morning's ceremony. She urged the new citizens to find balance as they begin their lives as Americans.