Astronaut Tells Kids 'Geeks Rule the World' at Camp to Encourage STEM
Posted:
Updated: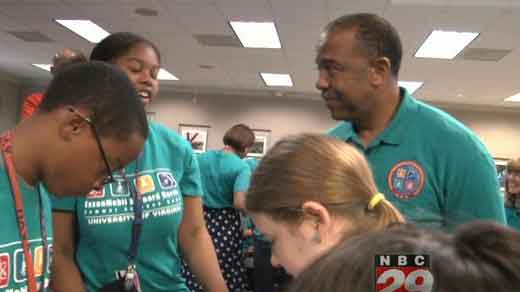 On Friday a former astronaut spent time with middle school students on grounds at the University of Virginia. And he had a simple message for them - science is cool.
"Guess what? Geeks run the world. I am a geek and it's ok to be a geek," said Bernard Harris, the first African American to walk in space.
And that's the message for the ExxonMobil Bernard Harris Summer Science Camp, which brings kids from around the region to learn about what's known as "STEM": science, technology, engineering, and mathematics.
"We're in the 21st century where technology drives everything that we do so it's important for these kids as they're getting educated, as they're finishing up middle school and going on to high school and college, that they look at going into the STEM fields," Harris said.
And he had a challenge for the students. They were given materials like paper, cardstock, construction paper, and wax paper to make a piece of a "space suit."
The materials had to be cut into squares that were either 10x10 centimeters or 15x15 centimeters. Then they had to be stacked on top of each other and taped together, but there had to be exactly 14 layers measured out exactly right.
"We also had a lot of teamwork in the project which made it a lot of fun," said camper Angelina Lemell.
Then came the hardest part: a simulated space test. The swatches were placed at the bottom of a tubed contraption, called an "impact tester." A metal cylinder the size of a small pencil dropped through the tube and onto the swatch of the pretend space suits. The group whose swatch had the fewest layers punctured was the winner.
"The skills that they're getting here is the ability to connect the dots. The things that they're learning in school, the biology, and math, and chemistry, actually showing how that applies to real life," said Harris.
For a man who once walked in space, Harris is now grounded by the potential of these students - "I want them to have the skills to fulfill their dreams, whatever their dreams are," he said.
And for now, one of their dreams has come true.
"Well I'm excited. It's nice to meet a real live astronaut and it's really cool to see someone with a career based in science," said camper Adam Gray.
Angelina agreed. "It was really cool. Something that I'll always remember," she said.