UVA Faces Power Pull Leading Up to Tuesday's Meeting
Posted:
Updated: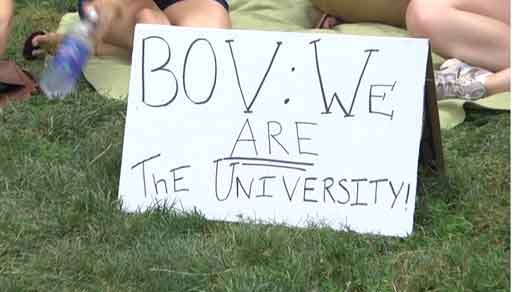 President Sullivan's possible reinstatement creates a power pull at the top of the University of Virginia. Who's actually in control - the UVA President Teresa Sullivan or the board of visitors?
Can Sullivan and the members - who wanted to fire her - work together in confidence? The overwhelming public outcry is forcing the university board of visitors to consider reversing course from its forced resignation of president Teresa Sullivan. But, if Sullivan is reinstated can she and the board work together?
Gary Henry of GF Henry & Associates said, "If not all of the board was involved, I think in sort of pushing for a certain outcome, I think certainly some elements of the board will have to be changed in order to make her and the university feel more comfortable."
That change could mean more resignations. Vice Rector Mark Kington stepped down last week, and there have been plenty of calls for Rector Helen Dragas's resignation. But some faculty and students say it doesn't matter who's on the board, it matters if the university community is taken seriously in decision-making.
UVA lecturer Bilal Maanaki said, "Let's hope the faculty and students will be the last ones who will be exerting the control. It's about really the students here."
Shannon Adams attended a rally on Sunday in support of Sullivan. "It depends on how adult and professional they are and what kind of attitude and how adult and professional they are. I think she's got the chops to do it. It's the board of visitors who I have my doubts about at this point," said Adams.
Many expressed that they are willing to forgive the board, but that will have to be earned Tuesday.
"Will people respect the board after this? If they reinstate her they will. If not, maybe not," said Maanaki.
UVA fourth year student Zack Grasso added, "I don't know about the board. The board it might take some time to heal that."
The next step is two days away. A special meeting of the board of visitors has been called for Tuesday at 3 p.m.. It is an open meeting so any vote will be public.
Governor Bob McDonnell has ordered to board take final action Tuesday or he will ask every member to resign Wednesday. Four of those members - including Rector Dragas - are up for reappointment on July 1. The governor has not yet announced any appointments.