Thousands Rally in Support of Ousted UVA President
Posted:
Updated: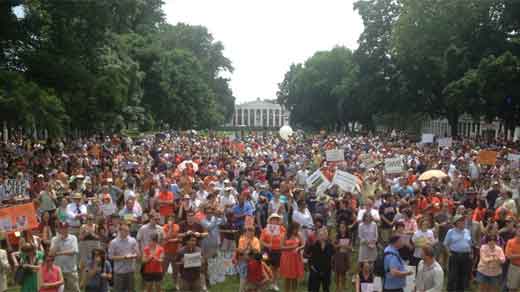 Supporters of ousted University of Virginia President Teresa Sullivan are calling for her reinstatement and greater transparency by the school's board.
Over 1,500 people gathered for the "Rally for Honor" on the Lawn adjacent to the Rotunda on the Charlottesville campus on Sunday, while thousands more tuned into a live-stream of it online.
The crowd listened while 27 speakers spoke on behalf of UVA towards the board of visitors, while still demanding they reverse their decision to remove Sullivan.
A majority of attendees held signs quoting the schools founder, Thomas Jefferson that wrapped up the theme of the rally - "It is more honorable to repair a wrong then persist in it."
Protestors insist reinstating Sullivan is the first step in moving forward. They also believe it will be a learning opportunity for not just UVA, but for universities across the country.
UVA economics professor Ken Elzinga said, "The board of visitors will be enhanced - this is the great paradox if the board is to reinstate Terry Sullivan. Most of us will come away with a renewed appreciation for the board"
Laura Lattimer, a UVA alum said, "I hope the board of visitors can see how much support there is for Sullivan and against the actions they did the past 11 days."
UVA graduate student Suzie McCarthy, is what some call the heart and soul behind this rally.
She started the Facebook group that generated support across the country, and as of now, that group has touched 16,000 members.
Rally organizers will host a vigil Tuesday starting at 2:30 p.m. at the rotunda as the board of visitors meets decides whether they will reinstate Sullivan as president.
Students, faculty, university deans and alumni have rallied in support of Sullivan and have criticized the board's executive committee for a lack of transparency in reaching a decision that shocked the campus.
On Friday, Gov. Bob McDonnell threatened to replace the entire board if it fails to resolve the furor. Hours earlier, Carl Ziethaml, the university dean appointed as Sullivan's interim replacement, said he won't do anything related to the job until after the board meeting.
Copyright 2012 The Associated Press. All rights reserved. This material may not be published, broadcast, rewritten or redistributed.