Social Media Becomes Outlet for Sullivan Support
Posted:
Updated: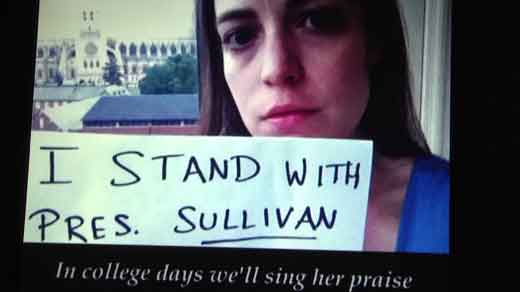 Grassroots support is growing for ousted University of Virginia President Teresa Sullivan.
On Saturday, faculty and students are getting ready for what is expected to be a massive protest Sunday at the rotunda, demanding the University of Virginia Board of Visitors reinstate Sullivan.
A Facebook group "UVA Students, Faculty, Staff & Alums for a Transparent UVA" has more than 15,000 members, ranging from faculty to alumni in support of reinstating the president.
But this isn't the latest social media push. There is also a new YouTube video that's getting plenty of attention. It's about a three minute video called 'Students, Family, and Friends United to Reinstate President Sullivan'.
The video shows people that have taken snapshots of themselves holding up signs that read 'I support Terry,' making references to Thomas Jefferson, and even sending messages to the board.
Professor Matthew Hedstrom, who has been tweeting on the issue, says social media has been huge for the grassroots efforts. "Summertime on the university campus often tends to be quiet. People are scattered, but I have colleagues who are following very carefully what's going on here from China, Istanbul, Europe, and same with students and alums," said Hedstrom.
The Facebook page is more focused on the rally, but it also has pictures, including one showing a banner hanging outside the school of nursing which reads: 'Bring Back Our President Terry Sullivan'.
Meanwhile, the general faculty council has announced a resolution calling for Sullivan's reinstatement, which comes in support of what the faculty senate has asked for. The Rally for Honor starts at 2:00 Sunday afternoon on the lawn.