Albemarle Vineyard Turned Irish Heritage Excavation Site
Posted:
Updated: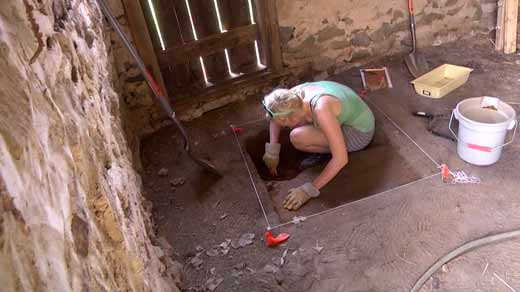 An Albemarle County vineyard known for its French-inspired wines has now turned into an excavation site, where archaeologists are unearthing some clues to Virginia's past.
Stephen Brighton, a University of Maryland professor, is leading a group of students and volunteers for an archaeological search at Pollak Vineyards at the base of the Blue Ridge Mountains. He's hoping to dig deep, for insight into his own Irish heritage.
"The ultimate thing that I hope to find is to prove that my theory is that there were Irish immigrant laborers and their families living here," he said.
Artifacts from Irish immigrants dating back to the 1850s might be just below the surface in a field on the vineyard property. An entire village may have existed there during the construction of the Blue Ridge Railroad over 150 years ago, and there's only one way to find out for sure - start digging.
"The best artifact to find would be a nice table setting and some nice teacups," said Brighton. But more importantly, he'd like to find clay tobacco pipes with various symbols from Ireland.
But getting to the bottom of what happened at the archeological site is much harder than just shoveling dirt. The entire space is mapped out. Each box measured out on the ground represents a box on a grid of the entire site plan.
"And what we do is those little squares turn into excavation units," said Brighton.
Excavation units that may be one scrape away from an amazing find. Since May, the group has found pieces of pipes, toys, and tools that they believe are from the era they're looking for.
On Sunday, Pollak Vineyards is hosting an Irish music festival from 2:00-5:00 p.m., where people can come meet the archaeologists and see some of the stuff they've found thus far.