Living Wage Campaign Comments on Sullivan's Departure
Posted:
Updated: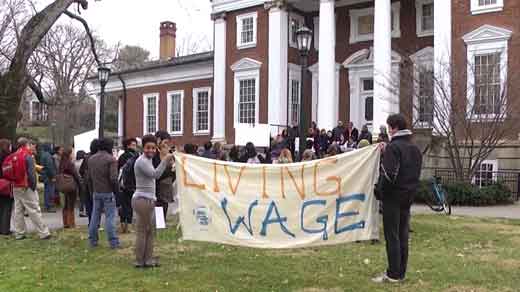 One University of Virginia organization says the lack of answers from President Teresa Sullivan's departure shouldn't come as a surprise. Members of the Living Wage Campaign say they have been dealing with the board of visitor's tight-lipped procedures for months.
The group says during the hunger strikes in February they tried to reach out to the board with little to no response. Sullivan on the other hand was more responsive. Now some are wondering if that has anything to do with the fallout.
Political commentator Joe Thomas said, "It can be very difficult to get into a position where you want to make changes and you're told that's not how we do things here."
There are lots of speculation, but still no hard answers. Written statements and an evasive press conference is all the public has to figure out what made Sullivan and the university part ways.
"But the statement 'philosophical differences with the board of visitors' struck me as interesting and it makes me think it has more to do with the living wage protest," said Thomas.
Emily Filler who is an organizer for the Living Wage Campaign says she doesn't want to speculate on rumors, but stresses people shouldn't be surprised by how the board is handling things.
"The kind of non-transparency the board is showing now is something that we in the campaign have been struggling with for a long time," she said.
In written remarks, UVA Rector Helen Dragas says "We see no bright lights on the financial horizon," citing dwindling state and federal support. Some wonder if Sullivan's support of the wage during these fiscal challenges didn't sit well with members.
"We met with her three times last academic year and each time she was happy to meet with us, although not encouraging of the living wage," said Filler. "We do know however in her textbook 'The Social Organization of Work' she actually called for a living wage."
The board says moving forward it wants a bold leader, while Filler and thousands of others want direct answers.
Filler said, "A let down to know that the board's focus, as always, seems only on their bottom line and not on the well-being of the employees on grounds."
The living wage aspect is only one part of the conversation right now, as Dragas alluded to news reports during the press conference. The board appears to want to move into a different direction financially, saying members want to prioritize and reallocate the resources they do have.