Help Save the Next Girl Releases New Sketch of Harrington Murder Suspect
Posted:
Updated: Jun 17, 2012 06:56 PM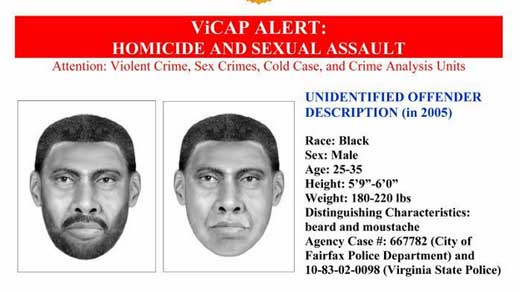 The FBI has released a new sketch of the man connected to the disappearance and murder of Virginia Tech student Morgan Harrington.
An new alert was posted Sunday night on the Help Save the Next Girl Facebook page. It shows a revised sketch of the man state police have connected through DNA to a sexual assault in Fairfax County and the murder of 20-year-old Morgan Harrington.
Harrington was last seen outside a Metallica concert at the John Paul Jones Arena in Charlottesville in October 2009. Her body was found in January 2010 on Anchorage Farm in Albemarle County.
Help Save the Next Girl, is a campaign started by the parents of Morgan Harrington to raise awareness of their daughter's abduction and murder, and to bring awareness to the vulnerability of young women and empowering them to make the best choices for their own safety.
Virginia State Police Press Release:
In recent months, the Virginia State Police and the FBI have been collaborating on a multi-media marketing campaign related to the ongoing Morgan Harrington investigation. One component of that campaign is the new composite sketches of the suspect linked by DNA to both Morgan's case and that of a 2005 Fairfax City sexual assault. (See attached)
State police investigators hope the composite sketch helps generate a renewed interest in the Morgan Harrington investigation among the public and, ultimately, leads to a tip that can bring resolution to both of these unsolved cases. Anyone with information is encouraged to call the Virginia State Police at (434) 352-3467 or the Jefferson Area Crime Stoppers at(434) 977-4000 or the Fairfax City Police at (703) 385-7959.
In the next week or so, the State Police and FBI will be unveiling this multi-media campaign in its entirety – as it is a complex project with multiple components. I will forward the press release with that announcement to you as soon as we launch it and are ready to go "live."