Charlottesville Author Helps with Alzheimer's
Posted:
Updated: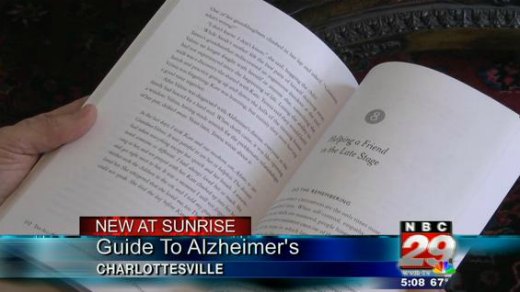 Byrd Abbott remembers life being very different seven and a half years ago, before her husband Cort was diagnosed with a form of dementia. The symptoms, which look like a mix of Parkinson's and Alzheimer's disease, have turned her once successful financier husband into a completely co-dependent person in less than a decade.
"I feel very fortunate because we still have brief moments where there's this little glimmer of the person that I married," Abbott explained.
Abbott has had to put Cort in a nursing home and hire additional help to be with him around the clock. He has lost his ability to speak, read, and eat on his own. His arms and hands are paralyzed, and he is starting to lose the use of his legs. Abbott says doing things without her husband have become easier over time, but the support from her friends, family, and faith have helped her make it through.
"With more and more friends that sort of reach out here and there," Abbott said, "it's really wonderful and it means so so much."
After failing to find a quick and easy read, Dr. Mary Cail, a Charlottesville-based counselor, decided to write a book to help people trying to offer support for their friends and families dealing with Alzheimer's Disease.
"A friend and a relative really is stepping in and out, and in doing that can bring something very unique and valuable to the situation that the caregiver really can't provide easily," Cail said.
Cail has written for a number of magazines, but she was led to write and publish "The All-Weather Friend's Guide To Alzheimer's Disease" after experiencing loss in her life. She says people with or caring for someone with any type of dementia can feel incredibly isolated from others, so it's important for relatives and acquaintances to understand how to offer a helping hand to caregivers and those directly affected by those illnesses.
The pages are filled with lists and lessons, and Cail hopes they are all simple to comprehend and apply to the situation readers may be in. She says a number of people think doing anything to help is very difficult, but for family and friends, it can be as easy as writing a letter, coming to the aid of someone when you're out with them, or just knowing the right thing to say.
Cail added, "I think people imagine that this is kind of hard, you know, to stay connected, to be a friend in a situation, and it's not. You know, anyone can do it if they have a basic understanding of it."