STAB Students Push for Pints With a PSA
Posted:
Updated: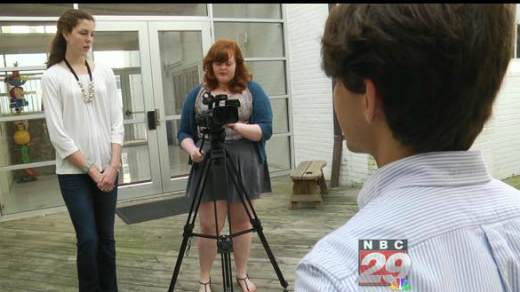 A group of teens are using their film skills to get more people to donate blood. Inspired by the loss of a fellow student's mother, students at Saint Anne's Belfield School (STAB) produced a public service announcement (PSA) to help with the cause.
Looking back at her battle with leukemia, the students at STAB remember how much the community was involved with Becky Silver's fight against cancer. Two of her sons are classmates, and the family has hosted a number of blood drives in her memory at the school. With that, holding a blood drive in her honor goes beyond giving back.
Peter Hartwig, a senior at STAB and one of the actors in the PSA, said, "Honestly, to her dying day, she was really the image of life in a way."
Hartwig has grown up at the school, so he feels the least he could do is carry on Silver's legacy.
"Whenever something happened to Mrs. Silver, it happened to all of us," Hartwig mentioned. "And so in that way she really became something that the community gathered around and fought with her. She was, she was a fighter."
It was that fighting spirit that drove a group of kids to something more than donate blood. Instead, they teamed up with Lighthouse Studios and put it to film.
STAB junior and PSA producer Laura Bissett said, "We got the idea to then talk to someone it does go to which is where the whole idea for the PSA came from."
The students started their work last December, capturing donors on camera. They also interviewed Lucy, a woman who has struggled with Crohn's Disease and has needed more than 100 units of blood over the course of her life. Getting someone who relies on blood donations in the PSA was important to Bissett's vision.
"You never know who you could be saving when you walk through that door," Bissett added.
Click here to watch the 30-second PSA, and here to watch a minute-long version. The students also produced a full film with the interviews.
Becky Silver's widowed husband, Lee, has organized seven or eight "Silver Lining" blood drives since his wife was diagnosed. He says his family didn't understand the importance of giving blood and become regular donors until the disease kept them in a hospital watching countless transfusions. Even at the hospital and after she got confirmed a donor, Becky Silver put together a bone marrow drive for other patients. Lee Silver says that's just the kind of person she was, and she would be proud of the community for rallying around the cause and taking action.
"It's really important to take action. Step forward and give blood. Someone's life really depends on you," Lee Silver explained.
While they have been involved from the start, this is the first time the students have taken charge of the blood drive at STAB, on top of making the PSA.
STAB junior and Community Service Council President Samantha Moore said, "There's definitely a lot of heart behind it, so I think that's what makes it so special, because there's a real reason behind doing it."
Silver and the students collected 66 units of blood Monday, far exceeding their goal of 40 units. The drive ran from 9 a.m. to 3 p.m. in the students activity center.