Keith Werman's Cavalier Journey
Posted:
Updated: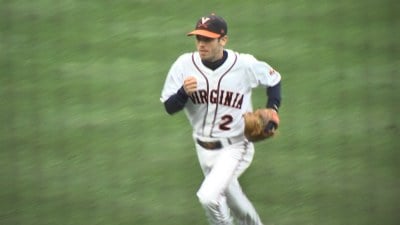 He followed in the footsteps of his brother Kyle, a four-year starter at second base for the Cavaliers from 2002 to 2005, and came to UVA in 2009.
Four seasons later, Keith Werman is a constant at second base for the 'Hoos, starting all but two of Virginia's games the last two seasons.
He burst onto the ACC scene in 2009, hitting .400 as a freshman and over .400 in Virginia's first ever College World Series appearance.
In 2010, the Oakton High School graduate hit a team-leading .414 as a sophomore, fifth best average in program history, earning second-team All-ACC as the toughest batter in the conference to strike out.
Werman said, "I played with that 'you got nothing to lose attitude.' Just trying to make my spot in the lineup and try to get myself the best chance to play."
But at 5'7", 150 pounds, doubters and opposing fans have always had questions.
Werman said, "'Do you even have a license? How old are you, ten? How much do you really weigh, 100 pounds?' I get all that, and I really enjoy it. It just drives me to even want to play even harder and really beat those guys. Always being told I'm too small, not capable of playing at this level, that really drives you to want to get better."
UVA senior first baseman Jared King said, "He's everything you love about baseball. There's people that say you're not fast enough. You're not tall enough. You're not big enough. He's proven all those people wrong for four years."
UVA head coach Brian O'Connor said, "He's just a tough, gritty player that is very, very talented defensively, and executes what he needs to do offensively to help us go."
Werman makes the routine play on defense look...well...routine, committing just 16 errors in four years with a fielding percentage of .981.
"That's what I take most pride in," said Werman.
He's even playing a little catcher this season, harkening back to his high school and early days at UVA.
The career .316 hitter batted over .400 during the 2011 College World Series and led the team in walks in 2011.
He's never hit a collegiate home run, but it's his ability to bunt that drives opposing teams crazy. Werman led the country with 27 sacrifices as a junior (despite hitting .223 at the plate) and is tied for the most in the nation with 19 more this year.
"There's a little something special about it. It's what I take pride in, being a smaller guy," Werman said. "My dad, as my coach growing up, he emphasized the bunting game. You have to be able to execute for the team. I think bunting's one of the biggest parts of the game that kind of gets pushed to the side for guys at a younger age. That's definitely something, when I'm coaching, I'm going to really take pride in and throw out a dollar bill on the field, and whoever gets closest to it gets it and really emphasize that small ball kind of game."
And in his final season as a Cavalier, Werman wants to help lead UVA to another College World Series.
"This is it for me, just try to make the best of it and really enjoy every moment," said Werman. "It's gone quick. I'm just trying to really enjoy every moment of it and enjoy being here with the team and these fans. It's been a great opportunity for me and just try to keep making the best of it."
"I'm really proud of the person he is, the competitor that he is," said King. "He just keeps doing things the right way, all the way. I've taken a lot of things from him, just about the way he handles his business."
UVA head coach Brian O'Connor said, "What a great example to show our younger players of somebody that gets the most out of his ability. I'll always be proud of him for that."
The Werman family moved to Vienna from southern California when Keith was around three or four years old.
Keith is #7 in the ACC in defensive assists this season with 124. He's 14th in the conference in walks with 25. Werman comes in at #24 in on-base percentage in the ACC in 2012 at .408.