Williams Drops Out of 5th District Congressional Race
Posted:
Updated: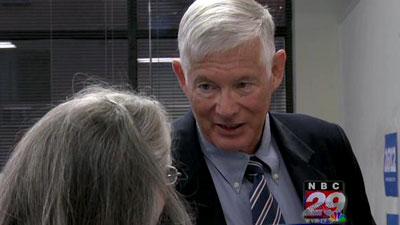 A Charlottesville Democratic candidate is dropping out of the 5th District congressional race. Peyton Williams conceded the campaign to Fauquier County candidate John Douglass Saturday.
Williams issued a statement congratulating Douglass for gaining enough delegates to become the party's nominee.
Williams said he and Douglass are continuing "productive discussions with the goal of uniting the party."
---
The NBC29 newsroom received the following statement from Peyton Williams:
I am writing to thank you for the support and encouragement you have given my campaign over the past few months. Today, I am announcing that I am suspending my campaign for the Democratic nomination in Virginia's 5th Congressional District in 2012.
I have spoken with John Douglass to congratulate him on a campaign well run, and to concede that he has the delegates to become the nominee at the District Convention. The important thing now, as always, is to re-elect President Obama, elect Tim Kaine to the U.S. Senate, and support John Douglass's campaign to defeat Robert Hurt.

John Douglass and I are continuing our productive discussions with the goal of uniting the party. I am looking forward to participating in the 5th District Convention and to seeing my delegates and all the good Democrats who will be there. I want to thank my family, my supporters, and my campaign staff once again for working harder than I thought possible and for believing in me.
- Peyton