PCRM Protests Cat Procedures in UVA Pediatrics Program
Posted:
Updated: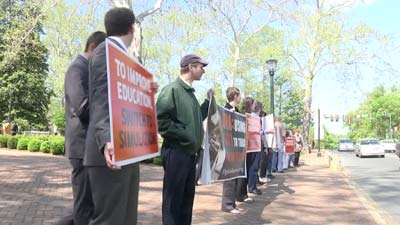 A group of concerned doctors is demanding that the University of Virginia stop using live cats in its pediatrics residency program. The Physicians Committee for Responsible Medicine (PCRM) took those concerns to UVA President Teresa Sullivan Thursday.
PCRM are upset that UVA uses live cats for endotracheal intubation training, and are demanding the school's pediatrics residency program stop using animals altogether. Members say that the practice is cruel and inhumane, and claim they have medical records that prove cats were injured during these procedures.
PCRM Chief Medical Officer Ulka Agarwal stated, "In veterinary records that we've obtained through the Virginia Public Records law, we've seen cats who've had broken teeth, who've suffered eye infections, and have had severe adverse reactions to the anesthesia they are put under."
Doctors in the pediatrics program say the cats are not abused, and that the three cats in question are rotated through a particular procedure, where each cat is at most used only twice a year.
"They are not abused. They are treated very warmly and very carefully. They are anesthetized," said John Kattwinkel, a professor of pediatrics.
Attending veterinarian Sandy Feldman added, "There's no incision. There's no bleeding. There's no broken teeth. There's no scarring."
PCRM took to UVA grounds in protest Thursday, calling for the program to switch to human simulators to train pediatricians and emergency responders on how to properly intubate babies. They argue that the best way to save a newborn is to use a non-animal method.
"They can save more lives by using proper non-animal method training, by using these human-centered, lifelike simulators." said Agarwal. "If their concern is about saving lives, this is the best way to save new born human lives."
But Kattwinkel says mannequins don't give the best training because, "The reflexes are not there. The feeling of the tissue is not there."
With 886 signatures, PCRM dropped off a petition for President Sullivan during the rally.
"So what's more important here?" asked Feldman. "Three cats that are well cared for, and take my word for it, these cats are very well cared for, or your daughters and sons. Your grandchildren. What's more important?"
Ninety-five percent of similar medical programs do not use animals. Kattwinkel says one of main reasons is because other schools have caved under pressure.
Doctors say if a better method comes along, they are open to the idea. But for now, they stand behind using cats safely and will make sure saving human lives remains their priority.