Arvon Presbyterian Opens Doors 3 Years After Fire
Posted:
Updated: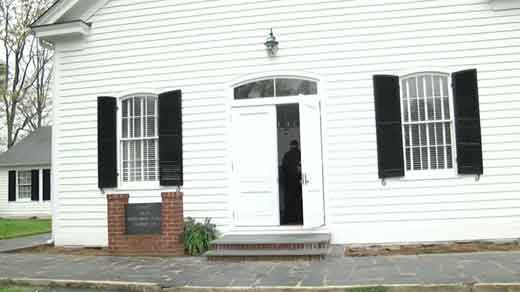 On Sunday Arvon Presbyterian Church in Buckingham County opened its doors in a new home on a familiar site.
The congregation rebuilt the new church in the footprint of their 124-year-old original sanctuary three years after a fire destroyed it. The original church was destroyed in a fire on January 15, 2009. It was ignited by a squirrel nest that caught fire from ceiling lights.
But after three years of rebuilding, architects aimed to make the church stand similar to its original 1885 footprint.
The doors are once again open, although in a different direction. Joe Allmond, the pastor of Christ Presbyterian Parish said, "The front doors were originally narrow and opened inward. You can't do that now because of architectural accessibility and fire safety issues."
A majority of charred items salvaged from the flames have been refurbished including the chairs, pulpit and communion table.
Neighbors from congregations across Buckingham County joined Sunday's services - including members of Fork Union Presbyterian Church which became Arvon's second home through the rebuilding process.
Joe Allmond said, "That's been a wonderful opportunity for the churches to grow even closer together."
Parishioners are ready to praise, move forward and make a difference with a new - yet similar - roof overhead.
Donations and insurance helped cover the costs to rebuild. The church will hold worship services at the rebuilt sanctuary on the first and third Sundays of every month at 11 a.m..
Donations for Arvon Church:
Peggy Johnson, Clerk of Session
974 Morgan's Hill Road
Arvonia, VA 23004
jpeg36@embarqmail.com