Help Save the Next Girl Campaign Heads to Fairfax
Posted:
Updated: Apr 14, 2012 07:12 PM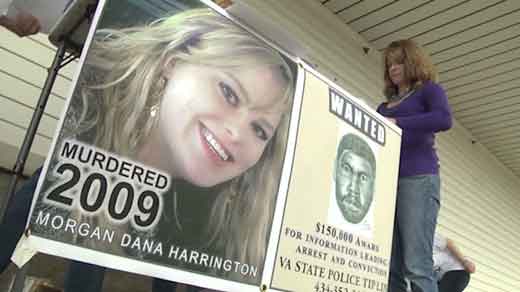 Saturday, the parents of murdered Virginia Tech student Morgan Harrington traveled two hours from where their daughter's body was found on an Albemarle County farm to keep the upper hand on her killer.
"I can not let him win he has done enough to our family," said Harrington's mother, Gil Harrington. Not letting "him win" means taking to the streets to find him.
Dan and Gil Harrington canvassed a neighborhood in Fairfax Saturday with fliers showing the sketch of a suspect in a rape that happened there, which is now connected to their daughter's murder after a concert in Charlottesville. Armed with flyers, volunteers and victims were on a mission to find a rapist and possible killer.
"Our daughter is dead but we are trying to prevent other families from going throughout this," said Gil Harrington.
DNA evidence links the unidentified suspect in the Harrington case to a rape that happened near the Fairfax Giant parking lot where the Harringtons gathered Saturday. "Four years before Morgan was murdered the person actually raped somewhere around the corner from where we are standing today so our efforts are to raise awareness of Morgan's case as well," stated Dan Harrington.
The victim was cutting through a Fairfax townhouse complex with a bag full of groceries in hand when she sensed someone behind her. The suspect, forced her into some woods and sexually assaulted her. Her screams ultimately scared her attacker off.
Sonia Valdizan, a Fairfax resident said, "It's very scary because I don't understand. Because we live in this area and nobody knows about it I didn't know about it…my daughter was at UVA and this monster is in this area so there you go it's very scary."
A daughter is what also brought another volunteer out on Saturday. Kimberley Nelson's pregnant child Bethany has been missing since last year. "I think it's an opportunity for us in forming this friendship it's a common understanding of what it's like to loose a daughter," said Nelson.
However, it is a feeling the Harrington's want to prevent. So they will keep handing out flyers and sending out their message one rally at a time to "Help Save the Next Girl."
If you have any information that can help investigators, you are urged to call the state police tip line at 434-352-3467. There is a $150,000 reward for information leading to an arrest and conviction in the Harrington case.