Grab Your Running Shoes For The C'ville Ten Miler
Posted:
Updated: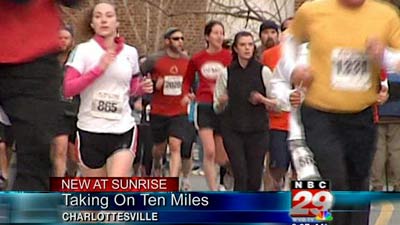 Get your sneakers ready, or at least be prepared to dodge some serious foot traffic. Saturday morning, the streets of Charlottesville will be filled with thousands of athletes participating in the Charlottesville Ten Miler.
Race coordinators say it's the longest running run in the area, going on its 37th year this time around.
The hilly route brings runners around the University of Virginia and downtown Charlottesville, so drivers should be careful in those areas from 7:15 a.m. to 10 a.m. Certain roads will be closed off to vehicle traffic during that time.
You can click here to see a more detailed map of the route.
About 2,400 people are registered to take to the streets. Race director Mike Inge says he's never seen a running community quite like the one in Charlottesville, and the city is lucky to have such an active and passionate group of people around.
"That just makes us a unique community in itself that," Inge said, "You know, we can have so many runners and these runners get behind all of the local charities that we support in the races, and it really does build upon itself."
Inge says those signed up to run range from master athletes to elderly runners to college students to handicapped individuals. He says this race is a great segue to participate in other running programs and continue staying in shape.
Charlottesville-area running experts say it takes about four or five months to properly prepare for this kind of race. They advise gradually increasing the distance you run each week, only by about 10 percent every seven days (for instance, if you run five miles one week, you would run five-and-a-half miles the following week). Inge compared Charlottesville Ten Miler preparation to a "mini-marathon training program".
This year's event is raising money for lung cancer research at UVA. An anonymous donor is doubling any contributions made, and you don't have to be running in the race to give.
Click here if you are interested in donating.
Inge says fundraising is already up more than $10,000 from last year.
If you're not running in the Charlottesville Ten Miler, there are other ways to participate. There are plenty of volunteers manning the course all morning. On top of that, there are various mile markers along the route where people can cheer on the competitors and listen to live music as runners push toward the finish line.
For the first time this year, Children, Youth And Family Services in Charlottesville is hosting a kids dash event as part of the ten miler. Younger runners can participate in quarter mile, half mile and full mile races at Lannigan Track at UVA.