Charlottesville City Councilor Szakos Questions Relevance of Confederate Statues
Posted:
Updated: Apr 06, 2012 05:01 PM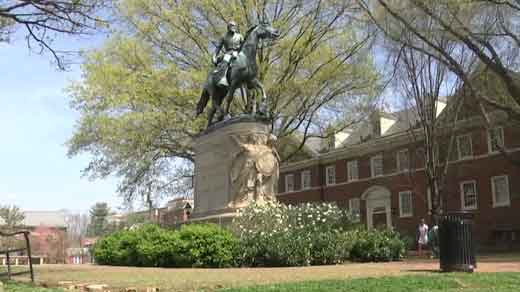 Statue of Confederate General Robert E. Lee
Charlottesville City Counselor Kristin Szakos says it's time for a discussion about what Charlottesville's historic Confederate statues are saying about this community. One of the options she's proposing is pulling Robert E. Lee and Stonewall Jackson down off of their stone perches.
Szakos questioned their relevance at a Festival of the Book luncheon about the Civil War Thursday.
Szakos said, "I think those are conversations that we should be having as a community. As how do we see ourselves? What is our history? What does it mean to us now?"
When asked if the statues should be torn down Szakos stated, "I don't know. I think we should have that conversation."
Albemarle Charlottesville Historical Society President Steven Meeks says tearing them down would be like rewriting history.
"It is a part of our heritage and our culture," he stated. "I think it's a part of the history of this city and a part of our culture and it should remain in place. These were given to the city for a specific purpose and they should remain there."
The monuments were an early 20th century gift to the city financed by Paul McIntire, the namesake for McIntire Park. The Jackson statue was dedicated in 1921. McIntire deeded the land to Charlottesville on the condition that no other statues would be placed in the park. Lee's statue was dedicated in 1924. The Confederate "Common Soldier" statue predates both and is from 1909. It was paid for with private donations.