Marathon Mondays: Taking a Comprehensive Look at Mechanics
Posted:
Updated: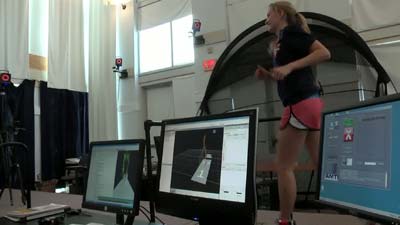 For some people, the main goal in running a marathon is to finish the race. For others, the objective is to smash a personal best. But whatever the skill level, taking a comprehensive look at your mechanics - from your form to the force of your stride - could make you a more efficient, healthier runner.
In this week's Marathon Monday, we go inside a one-of-a-kind clinic that does just that.
The University of Virginia Speed Clinic exists to help you become a better runner. In its arsenal are infrared sensors, high-powered computers, and not your "run of the mill" treadmill.
The markers physical therapist and Speed Clinic Director Jay Dicharry attaches to a runner he is evaluating are the same as those used in Hollywood, to make movies like Avatar. Using those markers, 12 infrared cameras pick up the runner's every move.
The Speed Clinic also boasts the only treadmill of its kind in the county that measures a runner's force as she lands, and is open to the public for gait analysis, injury rehabilitation or prevention.
"You can say I've been running for X number of years, I want to make sure that I continue to run symptom-free, and also get performance gains too," stated Dicharry. "So you can say look, if I change this a little bit, how does this impact my economy? If you can improve your economy, you can run sort of the same speed with less effort, or run faster with less increase."
The technology at the Speed Clinic is cutting-edge, and a typical evaluation will take about three hours with a team of technicians. For runners, it can be an investment in their futures.
"I think if you look at the big picture and you develop yourself comprehensively as a true athlete instead of thinking about one plane, one speed," Dicharry said. "You'll definitely stay a little healthier, and improve your efficiency as well."
This means you'll be running faster and feeling better.
Dicharry says he sees about two people per day in the speed clinic. An evaluation there will run between $150 and $450. They do accept physician referrals, but it isn't a requirement.