Marathon Mondays: Staying Sharp Mentally As Race Day Approaches
Posted:
Updated: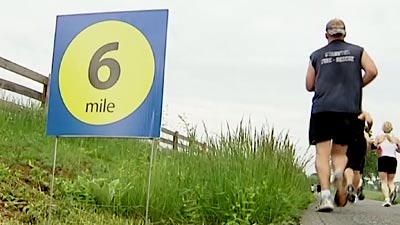 The thought of completing a full marathon can be enough to stop runners in their tracks, as the daunting date approaches. In this week's Marathon Monday, we ask the experts their tips for staying sharp mentally as race day gets closer.
When you are racking up the mileage on the way to a pending race, it's easy to think too far ahead. Running coach Mark Lorenzoni sees it often, and points out the pitfalls of looking miles - and weeks - down the road.
Lorenzoni said, "If you look out too far, you're going to get yourself very frustrated, and you're going to get yourself confused, because it's daunting."
But with training runs getting longer, and the race getting closer, runners often find themselves doubting their abilities or questioning the reason they decided to run in the first place. It all comes down to keeping your mind trained and toned as well.
"Any game, any contest, any sport that gives the performer a lot of time to think, they'd better have their mental game in order," said sports psychology consultant Sharon Petro. "Because that's what's really going to mess them up."
Petro gets runners race-day ready, and she says staying focused on the present could make the difference between breaking during training and getting to the finish line. Her approach, which she calls the WIN method, is all about living in the now.
"The basic point for the marathon runner is to run the mile you're in," she said. "Don't think about the past, don't think about future, but just keep your awareness in the present moment."
And as always, it never hurts to get a little help from your friends and family as the miles stretch on and race day gets closer.
"You need support," says Petro. "Positive support, though. You need people there saying you can do this. Come on let's go. Great effort!"