Tourism Advocate Urges Eminent Domain of Afton Mountain
Posted:
Updated: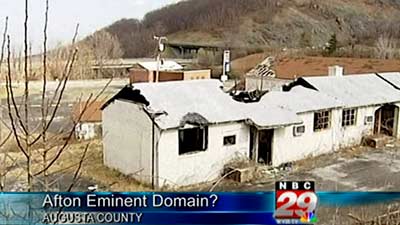 For thousands of visitors each year, Afton Mountain is their first impression of the valley and central Virginia. But a very visible collection of crumbling buildings there, has one tourism advocate urging the government to step in through eminent domain.
Hundreds of acres along Interstate 64 belong to the Dulaney family. In its heyday, the property offered a motel and cabins, gas station, restaurant and gift shop for weary travelers off the Skyline Drive and Blue Ridge Parkway.
What's left is what some neighbors call the "Afton Slums" - vacant buildings that are slowly decaying, some damaged by fire or vandalism. This highly visible blight could be turning away thousands of potential visitors a year, according to Starke Smith of Fishersville. That's why he's urging elected representatives from the local, state and federal level to consider taking the property.
Smith said, "Eminent domain is the only way anything's going to happen here. If the people of Virginia are satisfied this is the way it is, I'll drop my case."
Patrick Morgan, an Augusta County attorney, said, "We'd really have to come up with a good public reason - health and welfare. The health of the citizens would really be affected if we didn't clean it up."
Property owner Phil Dulaney has demolished six of the 11 vacant buildings at a cost of roughly $300,000. He says he hopes to reopen the Howard Johnson's restaurant, and add a gas station and convenience store.
Supervisor Jeff Moore - whose Wayne District includes this property - says he supports Dulaney's private-property rights, and doubts Augusta County would have any part of pursuing eminent domain.