Fire Damages Albemarle County House
Posted:
Updated: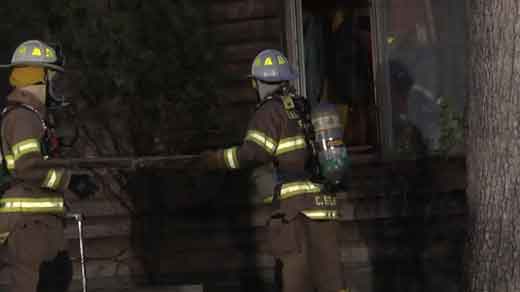 Update:
The Albemarle County Fire Department investigators believe the fire started in the fireplace. The damage is concentrated in the living room and attic. The family is still able to live in the house, though repairs need to be made. No one was hurt in the fire.
---
An early morning fire forced an Albemarle County family to escape their home Sunday. Firefighters found flames shooting from the roof of the house in the 1300 block of Dudley Mountain Road. It took firefighters about 20 minutes to put out the flames, but that was still enough time to do some damage to the family's home.
Fire crews from Charlottesville and Albemarle County battled the blaze on Dudley Mountain Road. Six tanker trucks, four fire engines, and two ambulances responded to the scene just before 6:00 with hopes to knock down the flames before the entire house could burn. Firefighters say the flames crawled out of the chimney and into the home.
"Upon entry into the structure they did have fire in the ceiling," explained Albemarle County Fire Rescue Battalion Chief Chip Walker. "To access the fire we had to actually open up the ceiling to gain access to the fire and to the attic space," he said.
It only took about 20 minutes to put out the flames. Crews quickly started clearing out debris to find what ignited the fire in the first place. Meanwhile, the fire department hopes the family can return home soon.
Walker added, "From what I see and know now, I'd say there's a reasonable likelihood that they will be able to stay in the structure."
No one was hurt in the fire. As of Sunday afternoon, the investigators have not pin-pointed the cause, but believe it started as a chimney fire. Crews did end up ripping out the entire ceiling of the living room as a precaution. They say by Monday, they will have a better idea of how much the damage will cost.