Group Says Personhood Could Outlaw Infertility Treatments
Posted:
Updated: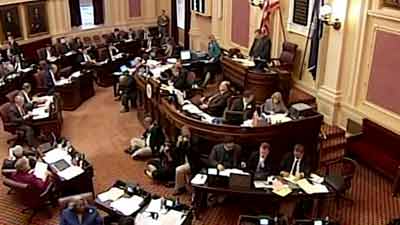 An ongoing debate over personhood legislation in Richmond is breaking new ground. Critics now say the bill would outlaw a wide range of infertility treatments.
So far, the debate has centered around whether or not it outlaws abortion. Now some doctors are concerned it will outlaw much more than that.
Whitney Anderson nearly broke down in tears as she detailed the struggles she's faced trying to get pregnant over the last 6 years.
"I've now lost five pregnancies," she told a room full of reporters Thursday.
That struggle with infertility has brought her to the state Capitol. She says House Bill 1 - which would define life as beginning at conception - could stop her from continuing with in vitro fertilization treatments, since many fetuses don't make it.
"It is very scary and completely unclear as to whether my doctor or I would have been held criminally liable," Anderson said.
Personhood passed the House of Delegates Tuesday. It's now on it's way through the state Senate.
"This bill is scientifically flawed, is medically flawed, and is legally disastrous," fertility doctor Joseph Gianfortoni said at the press conference.
But Republican Delegate Bob Marshall says his bill actually protects women like Anderson. One line reads, "Nothing in this section shall be interpreted as affecting lawful-assisted conception."
"Just very simply, it doesn't outlaw abortion, it doesn't allow birth control, it doesn't make anyone a criminal," Marshall said.
Critics, like Delegate Jennifer McClellan, say the bill would change what's considered lawful.
"Once you require every code section that uses the word person to be interpreted to include an unborn fetus, or a fertilized egg, you open up every criminal statute that deals with injury to a person," she said.
Anderson says the bill could leave her in handcuffs instead of in labor. "Me, the person who would move heaven and earth to have a child. I will be the innocent bystander that becomes the casualty of this legislation," she said.
Marshall says in other states where personhood has passed, he hasn't seen any cases where women who suffer miscarriages have been prosecuted, and he challenges critics to find such cases.