Safety Report: Older Home Rehab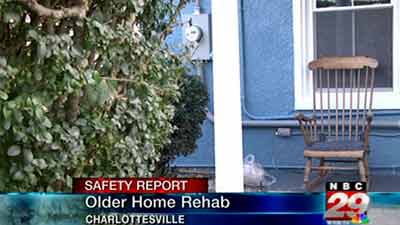 Hazards increase dramatically as homes age. The risk rises for electrical fires, mold, lead paint, and sagging structures. In this Safety Report, we talked to one Charlottesville homeowner who fixed up her 87-year-old house.
Della Dooms first stepped into her Charlottesville home 15 years ago. It was built in 1925. Over time, disrepair doomed the aging home. Dooms said, "The ceiling was out. The floor was gone."
Leaky plumbing left her with a boarded-up half-bath. "Water was leaking down from the wall," said Dooms. "All of this was just raggedy. It was terrible."
So Dooms contacted the Albemarle Housing Improvement Program (AHIP). The nonprofit sent an inspector and AHIP Rehab Specialist Jeni Klippel to begin an eight-week safety transformation of the Dooms family home.
Dooms stated, "You've got to see it to believe it."
Klippel's work starts outside. She warns anyone with a home built before 1978 to assume it's coated in lead paint. You can completely remove it, but abatement is an expensive option. Klippel said, "All the paint chips have to fall on that plastic and then you have to do clean-up around the house as well."
Klippel's crew chose to use Environmental Protection Agency (EPA) lead-safe practices, encasing the lead-painted trim with metal or vinyl. A special paint covers the front porch pillars.
"We lead-locked these," stated Klippel. "It's a special kind of paint you can put over lead paint."
Soggy ground surrounds the Dooms home, a sign of possible water damage seeping inside. Klippel says owners of older homes should check their crawl spaces or basements.
"If there's moisture sitting around or there's not a good vapor barrier in the crawl space, then you start to see mold start to grow on floor joists," said Klippel.
Klippel's crews leveled out the floor to prevent tripping hazards. She said, "Creaking, swaying floors, spongy floors those types of things should be reinforced at some point so it doesn't get beyond repair."
Older homes often settle over time. One way to check is to see if doors shut and lock correctly. Klippel stated, "Gaps bigger on one side or just crooked trim in general is a sign of settling around the edges."
From the floors to the walls, Klippel encourages older homeowners have an electrician check wiring. Houses built and wired before 1970 are at a higher risk for fires. She said, "You want to check before insulating or doing anything in your attic for old-style knob and tube wiring."
And remember, aging homes take some extra love and care. "It's easy to put off, because it gets overwhelming," said Klippel. "But maintenance is the number one way to avoid issues down the road."
The before and after show the home safety rehabilitation blessing for Dooms. "This is a beautiful home today. Feel like it's brand new," she said.
The latest census finds 44 percent of American homes are more than 40 years old. Click here for more information.