Lodge at Old Trail Hosts Fair to Fill Jobs in Crozet
Posted:
Updated: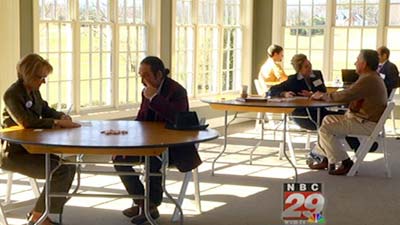 Close to 100 jobs are coming to Crozet, and applicants spent the day showing employers what makes them stand out from the crowd.
The Lodge at Old Trail broke ground around this time last year, and now the senior living community is looking for around 100 people of all experience levels to join their team. The employer hosted a job fair Monday to fill about 50 of those positions. It's looking for everything from housekeepers to an executive chef.
When all is said in done, 100 full- and part-time employees will help run the lodge. At a time when job losses have become commonplace, many agree job creation like this is a welcome change.
Matthew Frazer with Virginia's Staffing Choice said, "You have a lot of talent in the area, a lot of laid-off talent, a lot of people who are looking for work that have a range of skills."
Lodge at Old Trail Owner David Hilliard has a specific idea of the employees he's looking for, "We're really looking to hire people that are going to be part of our community, that care about our community, that care about residents, and are nice people," he said.
Applicants will find out by April 6 if they made the cut, and start work May 7. The Lodge at Old Trail is on track to open its doors on May 18.