Marathon Mondays: Channeling a Motivation Mantra
Posted:
Updated: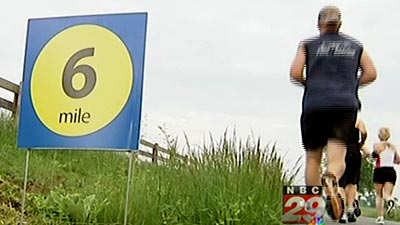 The Charlottesville Marathon is April 7th, and Monday marked the halfway point in training. As time winds down, motivation can too. In this week's Marathon Monday, we talk to some veteran runners about planning for your racing future right now.
In the 7 weeks since training started, a lot of miles have been logged, but there are still so many more to go. The motivation to train can wax and wane, which could leave a hopeful marathoner unprepared on race day.
Veteran runners Russ Gill and Francesca Conte own and manage Charlottesville Running Company. They have seen it all, including runners with the best intentions fizzling out during training.
They each have their own motivation mantra.
Conte said, "There are a lot of people in the world that run marathons. So what's different about you right now that's blocking you from doing that training? So it's either injury or motivation. If it's motivation you have no excuse."
Gill stated, "Motivate yourself with things like this is so good for me. I'm doing this. One percent of the population to get out and do this. You know. And just really you know be as positive as you can be."
Getting and keeping that marathon motivation can be tricky. But if you stick with your training, running 26.2 miles can be your reality.
As New York marathon co-founder Fred Lebow put it, "Every jogger can't dream of being an Olympic champion, but he can dream of finishing a marathon."
Some of the best motivation advice NBC29's Libby Allison has gotten is to just get out and do it. You never regret a run, but you will eventually regret not going.