Controversy Over Personhood Legislation in General Assembly
Posted:
Updated: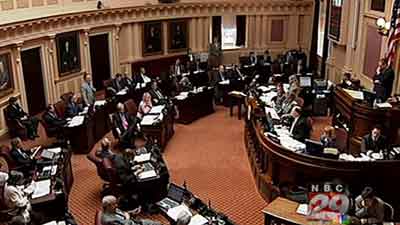 Legislation that would give unborn children what are called "personhood" rights is making its way through the General Assembly. If passed, opponents say it would effectively ban abortion in the commonwealth.
Personhood legislation is House Bill 1, the very first bill introduced in the 2012 session from Republican delegate and now United States Senate candidate Bob Marshall. House Bill 1 is modeled after an existing law in Missouri. It defines life as beginning at conception.
Marshall says it's intended to give unborn babies, and fetuses, legal rights in civil court. So if a pregnant woman is injured in a car accident, she could also sue on behalf of the unborn baby.
But opponents say that reasoning is just a facade to hide the real intent, which is to make abortion and contraception illegal.
Kathy Greenier with the Virginia American Civil Liberties Union (ACLU) said, "Certainly the intent behind this bill is to ban abortion and contraception in the commonwealth in the event of Supreme Court reversal."
"Nobody can point to any instances of this happening in Missouri by any prosecutor since 1989, when the Supreme Court [said] that they can do this," said Marshall.
Opponents say the reason Missouri's similar law hasn't restricted abortion is simply because of that state's own interpretation. They argue Virginia could interpret the law differently.
Both sides do agree on one thing - passage of personhood would set the legal groundwork to effectively ban abortion in the event of a Supreme Court reversal of Roe v. Wade.