"Time Machine Guitar" Pilot Starts Production in Charlottesville
Posted:
Updated: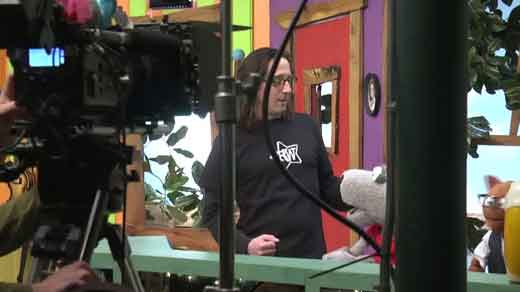 It was lights, camera, action Sunday on the set of "Time Machine Guitar," at the Ix Building. The television show pilot under production in Charlottesville, is putting extras and stage hands to work on the set.
It is a quirky, kid friendly TV show, designed to get kids excited about music and history.
Pam Arciero, one of the show's puppeteers explained, "We're doing some real basic senses of rhythm, and a little history in there as well, it's music and history which you hardly get anywhere."
Ralph Covert, the show's lead actor said, "What we're trying to do is create a show that has some rock and roll energy and a big sense of fun but weaves in kind of fun learning experiences."
Creator Ralph Covert says the idea for the show started with his son's passion for music. And kid audiences aren't the only ones that producers hope enjoy the show. Cast and crew members say they are having a blast filming what they hope will turn into a full series.
Jim Kroupa, the show's puppet captain said, "I think Ralph makes the show unique, although what really drew me to the show was the fact that it was about music, what's cool about this is that this, is going to bring music and music appreciation to a lot of kids."
Brodrick Jones, another puppeteer stated, "It's so much imagination and so much enthusiasm for everything that you can do that's creative, so there's time travel and music and all these amazing things but it also just enforces creativity in general."
"Time Machine Guitar" is also creating an economic boost for Charlottesville. More than 80 crew and cast members were hired for the production. In addition, if the pilot is picked up, the potential contribution could reach millions of dollars.
Erica Arvold, "Time Machine Guitar's" producer explained, "The entire idea is to bring a pilot here, do a really great job, sell it, have the series here which would be a great boost to the economy locally."
Producers hope that "Time Machine Guitar" will get picked up for a full season shortly after they wrap this pilot. To find out how you can support the show or get involved, click here.