Marathon Mondays: Choosing the Right Shoe
Posted:
Updated: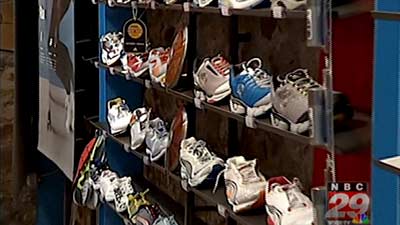 Running isn't easy. Almost anyone can do it, but it takes effort and discipline to stick with it. There are tools that can make training easier, and if you're preparing to rack up the mileage, one of the most important can be found on your feet.
The kind of shoe you wear makes all the difference in the world. It's something personal trainer Dan Bayliss reminds all his clients.
"When you are in the wrong shoe, the injuries are going to build up, and a lot of times, you're not going to be able to finish because you're basically in the wrong shoes," said Bayliss. "Luckily in Charlottesville we have a lot of valuable resources. Both running stores here are really good resources."
Those two specialty running stores - Ragged Mountain Running Shop and Charlottesville Running Company. Both have staff trained to figure out your unique running style.
Francesca Conte is the general manager at Charlottesville Running Company. She says, "The most important thing is to figure out your general foot type, where you land and how your foot rolls when you actually roll on it. Once you know that, you know the type of shoe you should be in"
That's echoed by Ragged Mountain co-owner Mark Lorenzoni. "You got to find a shoe that not only matches your width and fit, but you got to match your biomechanics which is critical. So a person with a really rigid foot is different than a person with a foot that flexes, pronates, over pronates. Those are two completely different types of shoes."
Once you find that perfect pair of shoes for your running style, keep careful track of your mileage.
One pair of running shoes is typically designed to last a runner 400 to 500 miles.
For this week's training schedule click here.
A new aspect to Marathon Monday is our weekly tip from the trainer. This week's tip from Bayliss: relax your shoulders when you run. Bayliss puts it in his own words best:
Relaxation while running, by Dan Bayliss
The reason I want people to relax relates to a physiological phenomenon called oxygen deficit. Ever wonder why the first mile is always tough? When you fist start exercising, you're body's oxygen demands go up (to supply the working muscles with the needed oxygen to run) and for a short time, the body is in a transition phase called oxygen deficit where the oxygen supply does not meet the demand. People mostly see this segue as "this sucks" or "I'm out of shape" where it's actually a physiological reason behind it.
This brings me to relaxing the shoulders. Relaxing the mind (and especially the shoulders) makes the experience much more tolerable as well as decreases your perceived exertion (or "this sucks" scale). After 5-10 min (depending on your fitness level, age, and other factors), the oxygen supply in your body catches up to the body's demands and so people perceive this as settling into a run. Relaxing the shoulders is a good way to help the mind deal this transition time and helps people get to mile 2 and so on!
Dan