Lindsey Lambert
Posted:
Updated: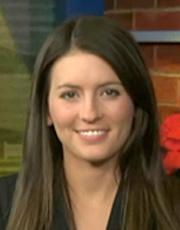 Lindsey joined the NBC29 news team as a general assignment reporter in December of 2011. Before coming to NBC29, Lindsey worked as reporter, producer and anchor in Alpena, MI. She was excited to make the move to Charlottesville where she has both family and friends.
Lindsey studied Broadcast Journalism at Columbia College in Chicago, IL. While in the Windy City she interned with Comcast Sportsnet where she became the first Lady of the Morning on the A.M. sports talk show, Monsters in the Morning. During baseball season she brought her love of the game to U.S. Cellular Field as in-game emcee for the Chicago White Sox.
Lindsey is no stranger to big moves and new towns. As part of a baseball family she has lived in Dayton, Ohio where she freelanced for the local paper and hosted a wake-up morning show. She has also lived in Virginia, Oklahoma, Tennessee, and Phoenix, AZ where she joined the Arizona Diamondbacks as part of the in-game promotional team, the Rallybacks.
When she's not bringing local news to viewers you can find her spending time with her family, watching baseball, currently rooting for the Baltimore Orioles, or updating her editing and writing skills.
Lindsey hopes to bring a fresh approach to local news coverage and would love any suggestions or tips for news stories. You can contact her at LLambert@nbc29.com.
FAST FACTS : Lindsey
First TV Appearance: I was an extra on Bravo's Top Chef.
Dream Interview: I would love to interview former president George W. Bush.
Most rewarding part of your job: Informing the community about something that has an impact on their lives.
Favorite TV show: Survivor and The Bachelorette
Dream Job: Undercover investigative reporter
Hidden Talent: I can spin a basketball on my finger!
Personal Philosophy: Never give up on yourself and never give up on your dreams.
Why I'm A Journalist: The truth is harder to come by than one may think. I live to separate fact from fiction and dig to find truth.
Hometown: Huber Heights, OH
Alma Mater: Columbia College Chicago
Hobbies: Horseback Riding, reading, working out and traveling.
Favorite Food: Hummus and pita chips
Favorite Author: Stephenie Meyer and Nora Roberts
Favorite Vacation Spot: Anywhere with water, sunshine and no humidity.