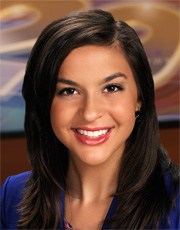 Mary Dunleavy joined NBC29 as a general assignment reporter in December 2011 and made the switch to sports anchor/reporter in September 2012.
Her broadcast journalism career started at Virginia Tech where she graduated with a bachelors degree in Electronic and Print Journalism and minored in Sociology.
Before working at NBC29, Mary was working behind the scenes in New York City at Original Media, TLC, ESPN, and most recently Bloomberg The Global Business Network.
She's a proud alumni of Virginia Tech Sports and was fortunate to intern with Lindsay Czarniack (now at ESPN), Dan Hellie, Hakem Dermish(now at ESPN) and Brett Feinberg at NBC Sports in Washington, DC.
As a Northern Virginia native, Mary could not be more excited to start her journalism career reporting on the teams she grew up watching. No matter their record, Mary is a Skins fan and takes pride in the art of "Griffining."
As a Virginia Tech Alumni - she's convinced maroon and orange match undoubtedly well (Hokie colors!).
Lacrosse runs in Mary's family and her sister Megan is a 4th year on the lacrosse team at the University of Virginia. The idea of being able to catch her games while working will be too fun.
If you have a story idea or just want to get in touch with Mary to simply say "Hi!" she would love to hear from you at anytime! Let her know by E-mailing her!
---
FUN FACTS: Mary
Position: General Assignment Reporter

Year Hired: 2011

First TV Appearance: You may have seen me on the TLC show NY INK, I was Ami James' assistant.

Favorite Story: Your story, see what I did there :)

Memorable Story: When I was working behind the scenes in NYC and the earthquake happened in Virginia in August 2011 (Ironically our viewing area) I knew I wanted to be on the scene and not behind the scenes...that's when I decided to send my resume tape to NBC29.

Dream Interview: Lady Gaga...I know, sort of typical-- but she's genuine and unique in everything she does and always keeps us on the edge of our seat, what's not to love about that?

Favorite TV show: Modern Family, my family IS the Dunphy's in reverse order.
Role Models: Hoda Kotb
First Story: Does making imitation video's of the Real World when I was little count?

Why I'm A Journalist: I love talking to people and I am endlessly curious to know peoples stories, and I go geek about things like rack focusing on a camera. Put the two together and BAM! It was meant to be.

Hometown: Fairfax Station, Virginia

Alma Mater: Virginia Tech

Hobbies: I.love.twitter. Its almost unhealthy.

Favorite Food: My mom's meatballs. Cathy Dunleavy is a magician I tell ya.

Favorite Song: Family Business- Kanye West

Favorite Author: Mitch Albom

Favorite Vacation Spot: Ocean City, Maryland