Looking Ahead to Marathon Mondays
Posted:
Updated: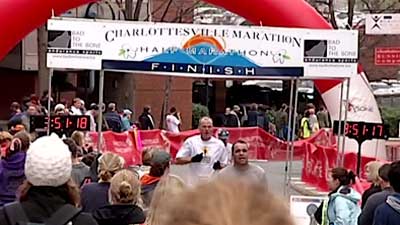 When endurance runners talk about a grueling race, or early morning runs in freezing temperatures, they often face the same question over and over again: why do you do it?
We invite you to discover the answer to that question, one mile at a time, with our new segment - Marathon Mondays.
Running a marathon is a feat some would call crazy; 26.2 miles is a distance that will make your legs scream in pain. It will give you blisters, and cause you to chafe in places that you'd rather not have rubbed raw. But it's an attainable goal, and according to veteran runners, it's worth every ache, pain, and tear.
"Start slow," says Harrisonburg runner Jason Rooney. "It's worth it, even if it might not feel like it when you first begin. But it feels great to be able to accomplish this. It's something that nobody can take away from you once you do it."
In sixteen weeks, thousands of runners will take to the streets for the 25th Charlottesville Marathon on April 7th. And in the time of New Years resolutions, NBC29 invites you to train with us.
According to exercise physiologist and personal trainer Dan Bayliss, the payoff could be life changing. "It helps with depression, it helps you gain more energy throughout the day, the number of benefits that you get from just exercising, including running are astronomical. I actually call exercising and running the fountain of youth for a lot of people."
NBC29's Libby Allison will be running the race, with the help of Bayliss, who put her through a series of tests to make sure she is fit enough to start the journey to 26.2. He maintains that it is imperative to get a check up to prevent injuries and keep your training safe.
"No matter who you are," Bayliss says, "Even if you consider yourself in good shape, you want to make sure you get checked out by your physician first. Always make sure you get checked out by your physician to make sure everything is physically okay with you."
So this is week one. Below is the Week One Training Schedule, trainer Dan Bayliss's bio, and more on the marathon training process. There will be a new weekly schedule posted every Friday, and remember: this is supposed to be fun! Stay at your own pace, walk when you need it, and train with Team NBC29.
Week One Training Schedule*, designed by Dan Bayliss
Sunday- Off (or non-weight bearing exercise)
Monday- Run (or run/walk) 4 miles
Tuesday- Off (or non-weight bearing exercise)
Wednesday- Run (or run/walk) 5 miles
Thursday- Run (or run/walk) 3 miles
Friday- Off (or non-weight bearing exercise)
Saturday- Run (or run/walk) 8 miles
Trainer Dan Bayliss Bio: http://bestinhealth.weebly.com/about-dan.html
Libby Allison's Training Blog: http://libbylacesup.blogspot.com/
*Follow this schedule and train with NBC29 at your own risk. Make sure you are physically fit enough for vigorous exercise before starting any exercise program.