Occupy Charlottesville Forced Out of Lee Park
Posted:
Updated: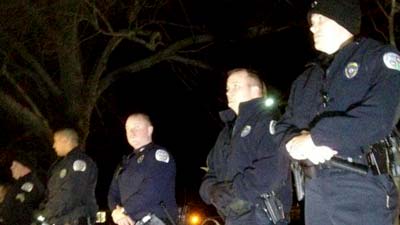 Lee Park is now clear and 16 Occupy Charlottesville protestors were arrested at around midnight Thursday. Police took action after their permit to stay expired at 11 p.m.
Eighteen people are facing charges, 16 were taken into custody and 2 others were cited at scene.
Many protestors stayed in and around Lee Park after the deadline passed, holding signs and chanting to show support for the cause. Most stayed until police started handing out summons to leave the property.
Occupiers were aware that if they stayed in the park, they would be arrested. A group of protestors linked arms and sat in a circle after the police warnings were given. Police then moved in and took those that remained in Lee Park into custody. A nude female protestor was among the occupiers that were arrested.
Lt. Ronnie Roberts with Charlottesville police says the operation went smoothly overall and non-confrontational between officers and the arrestees.
Police arrested the final protestors in Lee Park around 1 a.m. and they were taken to the magistrate. Other Occupy Charlottesville members planned to hold a vigil at the jail to show their support for those that were arrested.
Occupy Charlottesville is holding their next general assembly meeting 6 p.m. Thursday at the Free Speech Wall on the downtown mall. There has been talk the movement will relocate to that spot, but when it would take place is unknown.