City Council Will Continue Discussing Occupy Charlottesville
Posted:
Updated: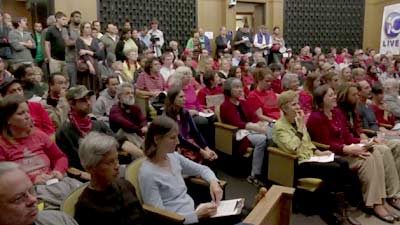 After hours of public feedback, Charlottesville City Council is continuing conversations with the Occupy movement - working with the protestors until making a final call on when, and if, they need to leave Lee Park. The council also discussed working on finding the group an alternative site for the future.
Occupy Charlottesville protestor Larry Bishop stated, "For us it's a matter of the simple exercise of our first amendment rights, nothing more, nothing less."
Protestors have already been living in Lee Park for almost a month. But the city's permission to stay overnight only lasts until Saturday. Protestors marched to City Hall to show that many members of Occupy Charlottesville won't accept that deadline.
The city granted the group unprecedented permission to stay in the park for 30 days. But members made their case to council - showing support with their gestures, red clothing, and applause. They hope the city will bring an end to the 11:00 curfew and let them stay indefinitely.
"Restricting the time, place and manner in which citizens can participate in a community forum literally abridges of freedom of speech," said Jordan McNeish, another Occupy Charlottesville protestor.
Councilors seemed split - struggling to strike a balance between the protestors' rights and maintaining order in city parks.
Charlottesville City Councilor Kristin Szakos stated, "I think that free speech doesn't expire at 11 o'clock. It doesn't expire at Thanksgiving."
"What I was hoping, in addition to the individual transformations that there would be a group transformation also at this point," said Charlottesville City Councilor Holly Edwards.
After more than three hours of public comment, talks will continue, and the city will consider another short-term permit - putting off the final decision a little longer.
Charlottesville Mayor Dave Norris said, "I guess for me, the question is, is the movement stronger than this park? I think it is. I think its clear that it is."
About 60 people came out to speak on the park curfew issue. A handful of commenters made a case against the movement staying past the permit expiration, saying Occupy is a campground for the homeless and a source of safety concerns.