Scottsville Road Fatal Accident
Posted:
Updated: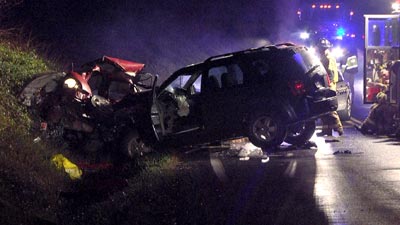 Albemarle County police are investigating a fatal crash on Scottsville Road. Police say a woman who was driving under the influence is now dead.
The driver, Amy Ouypron of Charlottesville, was going southbound in a red sedan on Route 20 around 10 p.m., Wednesday when she drove off of the road and attempted to overcorrect. She then hit an SUV with a driver and her passenger near the 4000 block of Scottsville Road.
Police say both of those young women were responsive at the scene of the accident. They were taken to the University of Virginia Medical Center, but are expected to make a full recovery.
Police say they received phone calls about the female driver before the crash happened. Callers reported a car driving erratically on the road and the driver getting in and out of her car.
This is the fourth fatal accident reported in Albemarle County in the past week.
---
Albemarle County Police Press Release
The Albemarle County Police Department's Crash Reconstruction Team is investigating the sixteenth fatality that occurred last night at approximately 10:00 P.M. in the 3800 block of Scottsville Road.
Amy Ouypron, 24 years of age, of Charlottesville, Virginia was pronounced deceased at the scene of the crash. Ouypron was operating a 2006 Nissan Sentra, when her vehicle ran off the road. Ouypron overcorrected and impacted a SUV that was traveling north on Scottsville Road. The driver and the passenger of the SUV were transported to the University of Virginia Medical Center with non-life threatening injuries.
Speed and alcohol are listed as causation factors. This crash is still under investigation.
Sergeant Darrell R. Byers
Public Information Officer