Car Accident on Old Lynchburg Road
Posted:
Updated: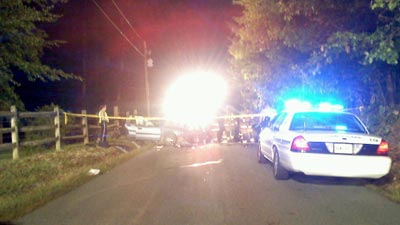 Two people are in the hospital with life-threatening injuries after a head-on collision in Albemarle County Monday night.
First responders were called out to the two-car accident on Old Lynchburg Road in Albemarle County. The call came in at around 10:30 p.m. Monday.
When officers arrived on the scene, they found two vehicles in the 2000 block of Old Lynchburg Road. Police say that one vehicle had a young woman and three children, and the other had two adults. Investigators say all patients were transported to the University of Virginia Medical Center.
Sergeant Sean Hackney with the Albemarle County Police says two adults were airlifted from the scene to the hospital. Both of them are thought to be suffering life threatening injuries. All others involved in the accident were also taken to the hospital and are believed to have minor injuries. There is no official word on their conditions.
Police believe that speed was a factor in the accident.
"If you follow the speed limit, its safe, but its not a forgiving road. So in this case, it looked like somebody may have gone over the center of the road," Sgt. Hackney said. "The center of the road isn't marked here."
Rescue crews cut off the roofs of both vehicles involved in the crash to reach the people inside safely and more efficiently. Those measures were taken due to the heavy front end damage to the cars and the age and condition of the accident's victims.
Police will continue to investigate this incident over the next few days.