Charlottesville Church Recognizes Same Sex Unions
Posted:
Updated: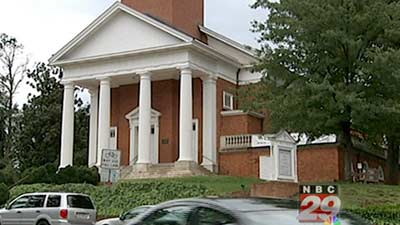 A Charlottesville Episcopal church is taking steps toward recognizing same-sex unions.
"It is another step along the road that this church has had in opening its doors to people. Particularly people on the margins," said Rector James Richardson.
St. Paul's Memorial Church sits right across University Avenue from the UVA Rotunda. And after months of deliberation, it's decided to stand up to officially recognize same-sex relationships.
"What we are doing is not in a vacuum, it is part of the wider church, not every part of the church is doing the same thing," Richardson said. "In the end it came to me to ask permission of the bishop about whether we could bless these relationships."
The church joins six other Episcopal congregations in the Diocese of Virginia approved to perform similar ceremonies. But Richardson is quick to point out that this is different from what we think of traditionally as marriage. Rather, he considers this a recognition of mutual joy.
"This is the right thing to do now," he said. "Our gay and lesbian people have waited a long time."
This isn't the first time the Episcopal Church has evaluated its stance on gay and lesbian issues. The church saw the acceptance of its first openly gay bishop, Bishop Gene Robinson, in 2003. Bishop Mary Glasspool became the first openly gay female bishop in 2010. As of 2009, bishops in each Diocese across the country retain individual discretion over how to bless or recognize same-sex unions.
The Diocese of Virginia oversees almost 200 Episcopal congregations throughout central and northern Virginia. In a statement, the diocese told NBC29:
'The Rt. Rev. Shannon S. Johnston, bishop of the Episcopal Diocese of Virginia, has authorized seven congregations to provide a generous pastoral response to faithful same-sex couples in the context of a church service. "I am convinced – both theologically and experientially – that committed, monogamous, same-sex relationships can be faithful in and to the Christian life," noted Bishop Johnston. He also reiterated his firm commitment to supporting all congregations in the Diocese of Virginia, including those congregations who object theologically to same-sex blessings. "I assure in the strongest terms those who oppose such blessings that their position and witness will continue to be wholly respected in the Diocese of Virginia."'
André Hakes, a board member with Virginia gay advocacy group, Equality Virginia, is pleased by the church's decision.
"I think that is fabulous that they're doing that. I think it's certainly more in accord with the general good principles of Christianity," she said. "The gay community wishes it was a non-issue that's what we're looking for is essentially non-discrimination."
Hakes says steps like these show that times, and opinions, are changing.
"People's attitudes are changing. I think, you know I was born on 1971 and when I was in high school it was a lot more difficult to be a young gay person," Hakes said. "I think each generation has helped the other generations make some progress."
Richardson is concerned some with differing opinions won't perceive these changes as progress.
"My concern is that people who don't understand this or don't agree with this will react in a hateful manner," he said. "I don't expect everybody to agree with us, I expect some people to be very against this and will tell us so."
In his decision to bless and recognize same sex unions, Richardson turned to his congregation, his clergy, and even the Bible itself. He says the decision reflects the fact that the definition of marriage is changing.
"The Bible has a rather large latitude on marriage," Richardson said. "We think of it now as primarily for the mutual joy of husband and wife. That has led to an inevitable question - is it only men and women who can have the mutual joy of a committed, supportive, loving relationship?"
Richardson doesn't think so.
"The steady progression of the episcopal church has been to open our arms of love and welcome more people and provide for them all of the blessings that the church provides," he said. "We can celebrate - you are in a loving, committed, faithful relationship. We celebrate it. You are welcome here and we bless it. And god blesses you."