Augusta Health Heart and Vascular Center Groundbreaking
Posted:
Updated: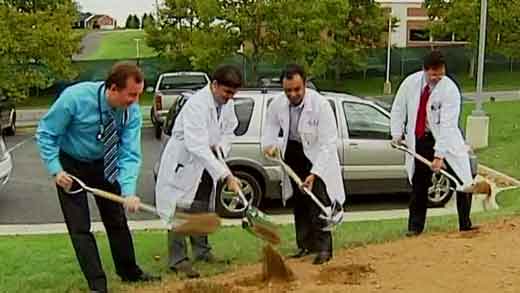 It's tough to put a price tag on shaving precious minutes off response and treatment time for a patient suffering a heart attack. Augusta Health believes it's worth $30 million - the price tag of the hospital's new cardiac center.
Over the past couple of years, Augusta Health has gradually put together a cardiology team of four specialists with a fifth one on the way. The hospital in Fishersville says it needs a state-of-the-art facility to help them best serve a growing number of patients.
Friday Augusta Health broke ground on its long-awaited heart and vascular center. At 67,000 square feet, it has room for a new catheterization lab, a cardiac-rehab facility, and new offices for doctors.
The four-story facility promises to give the heart unit much needed space and offer patients access to faster care.
Kathleen Heatwole of Augusta Health said, "Rather than having the physicians at one end of the campus and having to run to the cath lab, we have everything there. The cardiology offices will be right next to the invasive and non-invasive cardiology department so they'll be able to interface with their patients on an even quicker basis."
Contractors have already begun utility work for the hospital's new addition. It should be ready for patients by the start of 2013.
Doctors at Augusta Health say they've performed close to 1,100 heart-catheterization procedures since the start of last year. This expansion project will give them a second cath lab.