UVA Students Learn in the Garden at Morven Farm
Posted:
Updated: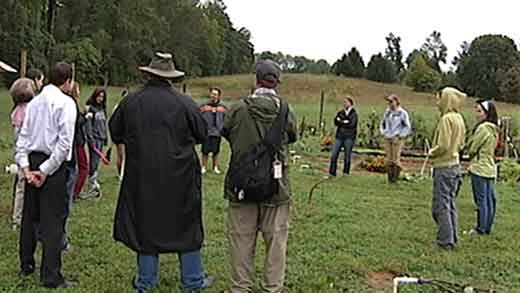 A group of students at the University of Virginia braved the rain to spend the morning on a farm in Albemarle County. The Kitchen Garden at Morven Farm doubles up as a classroom, where students can learn more about sustainable food.
Gardeners at Morven Farm are celebrating a successful growing season. The first seeds in the Kitchen Garden were planted in March. Now, the garden has a little bit of everything and it offers a wealth of knowledge for students interested in growing their own vegetables.
Richard Becker, a UVA second year, wants to learn more about sustainable food, and the kitchen garden is his classroom. "I'm impressed with the size of the operation they have going on already," said Becker.
The garden is in its first year. The one acre plot was a gift from John Kluge, who donated the land in 2001. Untouched for years, it became overgrown. But last fall, Michelle Rehme and others started clearing the space, converting it back into a garden from scratch.
"We grow a little bit of everything. This is our first season so we're really just trying to see what works and what doesn't," explained Rehme.
The garden has ties to the UVA, and is meant to be an educational resource.
"This is a place where students can come and do research and learn how to grow food on more of a real world scale," said Rehme.
"It's okay to start small, and just to be very experimental and try many things out, to not have all the answers when you're starting," said Becker.
Becker and others on the tour say they are interested in coming back to the farm, and are not afraid of getting their hands a little dirty.
All of the produce grown at the garden goes to student and faculty community support and agriculture at UVA. There are also plans in the works to start selling vegetables on grounds next year at a farm stand.