PVCC Pushes Forward
Posted:
Updated: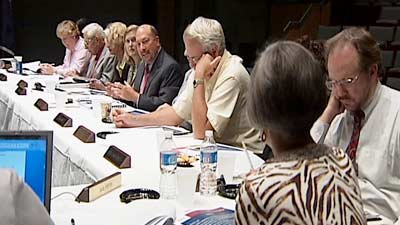 The board at Piedmont Virginia Community College held its first meeting of the school year Wednesday. For the decision makers it was the first meeting of the year with a lot on the table to talk about. The common thread for most of the discussion Wednesday was the school's explosive growth and how PVCC is preparing for the future.
PVCC plans to open up two new satellite campuses in the next year. They've already welcomed a dozen new faculty members for this semester. All of these changes are to gear up for more students.
President Frank Friedman told the board Wednesday afternoon that one of his top priorities is to get more students graduating.
Right now, only about half of those who declare majors at PVCC move on to four-year schools or walk the stage. He said he wants less people coming just to "take courses" and more pursuing degrees.
"We want to focus in on how to increase the rate of our students who persist and achieve a degree and then are able to either go into the job market or transfer to a four-year school," said Friedman.
The college is also developing more of its "student success initiative" by offering mentoring and advising to those taking courses, so they are more likely to pursue a certificate or degree.
"We were not satisfied with our own rate of student success and graduation, not that it's bad. It's probably about average for community colleges in the country, but average isn't good enough. We want to be better than that," Friedman said.
In addition, the board also approved new design plans for the entrance of the north end of campus. That area hasn't been updated for about 30 years.
PVCC hopes to see classrooms in the Jefferson School City Center and its Greene County Campus open to students in the next year. In the past five years, enrollment has jumped from 4,100 students to about 5,600 this semester.