Charlottesville Council Candidates Take Questions
Posted:
Updated: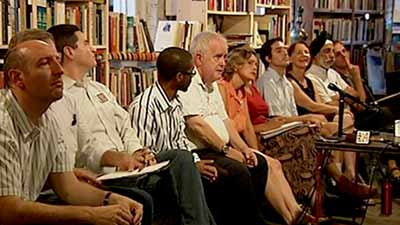 Almost a dozen candidates vying for a spot on Charlottesville City Council in November took the public's questions Wednesday night. People got their chance to ask those trying to get on the ballot anything, from big business to the bypass.
For a couple hours in the Random House Book Shop, people got to get their questions answered and 11 candidates, seven Democrats and four Independents, got to share their responses face-to-face with voters.
At Wednesday night's Charlottesville City Council Candidate Forum, it was the people's turn to throw out questions with some concerning Charlottesville's hot button issues.
"For the last three years, I've been involved in trying to save McIntire Park and trying to push the concept of dredge first, dam later," said candidate Bob Fenwick (I).
Candidate Paul Long (I) said, "If I'm on city council, I will use my vote to oppose any more road construction. I think a great deal of that money should be devoted to public transportation."
"We may not have a say-so. The idea is if given the chance, what would you vote for. If given the chance, I'd personally would move toward dredging," said candidate Andrew Williams (I).
Candidate Dede Smith (D) said, "I do not approve of using our natural parks or natural resources without there being a very reasonable balance between protection and development."
There were also talks of University of Virginia relations and racial issues in the city.
"Charlottesville is not the only city to have its middle class African-American community eroded and replaced with a public housing community," said candidate Colette Blount (D).
The audience also got the candidates' feelings on taking money from business interests.
Candidate Brevy Cannon (D) said, "It's important who gets elected and they've thrown their die and they have an agenda and there's not necessarily anything wrong with that."
"I did not seek it, but it did come and I did accept it. It is not illegal, immoral or unethical to receive funds," said candidate Satyendra Huja (D).
Candidate James Halfaday (D) said, "If you're going to serve the people, you need to be as independent and you need to be as neutral as you can be here in this community."
And of course, many had questions on the economy and jobs.
"We need to really think about what are the kinds of skills, what kind of preparation do our people need to be able to compete," said candidate Kathy Galvin (D).
Candidate Brandon Collins (I) said, "I am a candidate for the working class, for workers rights and, you know, business groups feel threatened by that, but we're going to stand up for workers' rights no matter what."
"To me business is a positive thing, and to talk about you're for workers, you've got to have jobs to have workers and that's why businesses are so important in this community," said candidate Paul Beyer (D).
Independent candidate Scott Bandy was the only one in the race not there Wednesday night.