Nelson County Flooding
Posted:
Updated: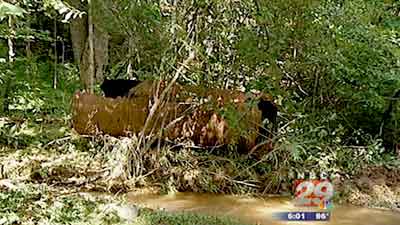 Neighborhoods in Nelson County are cleaning up from flash flooding caused by a sudden deluge of rain late Saturday night.
More than five inches of rain fell in parts of Nelson County over just a few hours causing mudslides and washing out roads. Emergency Services Coordinator Raymond Uttaro says he has unconfirmed reports of as much as 14 inches of rain falling in some locations.
Much of that rain fell overnight near Afton. It caused mudslides in several areas and forced several culverts to collapse.
On Hill Hollow Road, a culvert completely caved in. Workers were out Sunday trying to clear up some of the damage. Nearly a dozen families are still stuck on their property not able to get out because rain washed away the driveway.
Uttaro said, "It's very strange. We don't normally get rainfall like that around here. We've seen some big rainfalls, but this is one of the ones that tops it for me."
From here the Virginia Department of Transportation has to come out and replace those culverts.
In the meantime people living there are told to just be patient.
Raymond Uttaro is busy preparing a report on this weekend's damage to present to county government Monday. He is also awaiting confirmation on those large rainfall totals from the National Weather Service.