Looming Budget Issues Worry State Lawmakers
Posted:
Updated: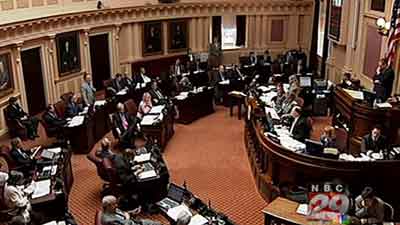 Virginia's next state budget could be a victim of the economy, especially with federal cuts looming and long term projects where the bills are coming due. Richmond insiders are already worried about what it will mean across the commonwealth.
The uncertainty on Wall Street is just adding to those concerns. Lawmakers say they're worried this budget will be incredibly difficult to balance. State finance experts already are crunching the numbers.
State Finance Secretary Ric Brown says he's used to having a lot to consider when writing a new two-year budget but the spending plan the McDonnell administration is developing now is packed with potential red ink.
The upcoming budget must include about $300 million for changes to public school funding formulas, tens of millions of dollars for improvements to mental health care and an untold amount to the state pension fund.
"It's always easier in the early going to say 'Ok, we're doing to do something about this,'" Brown said.
This year is unique because on top of all that there are questions about the impact of the federal debt deal and now, new questions about tax revenues due to the uncertainty on Wall Street.
Brown stated, "We will be reassessing all of that."
A Richmond think tank estimates the state will face an $800 million shortfall going into the two-year spending cycle. Some lawmakers say Virginia can't afford to cut much more.
"My biggest concern is those people that are on the margin, the peripheral," said 74th District Delegate Joe Morrissey (D).
Morrissey says the poor will feel the biggest impact of more cuts to Medicaid and to public schools. He also points out this budget won't benefit from federal stimulus help.
"Guess what? That ends. That ship has sailed. No longer are we going to have the luxury of taking federal government stimulus dollars," stated Morrissey.
Brown says the last two budgets have anticipated the end of stimulus money so that won't be a huge shock. Folks are keeping their eyes on the stock market and what that could mean for this budget cycle.