Darden Program Inspires Central Virginia Students
Posted:
Updated: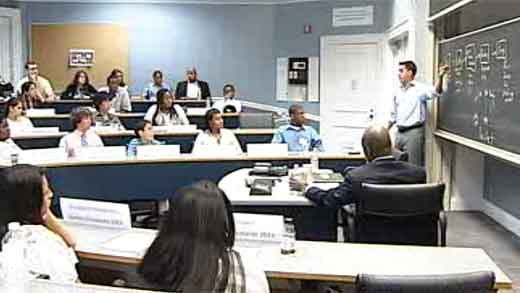 Every summer, the University of Virginia's Darden School of Business hosts LEAD, a month long leadership camp for some of the highest achieving minority high school seniors from across the country. For the second year, the program joined with Albemarle County Schools to allow some of central Virginia's highest achieving juniors to attend for a day.
"What we have done here at Darden, is to do something local that would target potentially first generation college students and to match them up with these excellent students from across the nation," explained Dr. Paul Harper, the Jaime Escalante LEADership Camp co-director.
The vision of the Escalante camp is to let local rising juniors network and create relationships with rising seniors.
"We have kind of taken the near-peer model and that way we figured, if our current leaders are leaving this program and are applying to college and they are connected to these students who are a year behind in a certain way, the Escalante students will be able to live vicariously through the college process of the leader they meet," added Harper.
And for some students, the program offered an even more tangible reason to push themselves to achieve their dreams.
"You know, just getting them on a college campus in itself is a huge feat, because some of these kids just don't have that opportunity, or their parents are too busy or they just don't have that idea of the importance of visiting a college campus," said Gloria Rockhold, the other co-director of the Escalante camp and Albemarle County Schools manager of community engagement.
Though some student's weren't necessarily interested in business, the program offered a business structure and "attitude" for them to realize their goals.
Albemarle High School Junior Dashon Tibbs was receptive to that mentality, "the vision road map and habits, how to see a vision and make a roadmap to get there and to have good habits."
Tibbs hopes to be the first in his family to graduate from college, "It pushes me harder that way I will graduate from hopefully UVA," he said.
Heather Chambers, a rising junior from Fluvanna High School, is over flowing with future dreams, "I love film and I love theater so that would be my biggest one but also love engineering, I love that everyday you can go to work and discover something new."
She hopes to join her sister and be the first generation in her family to graduate from college.
"I just want, what ever I do in college I just want to be successful and most importantly be happy, college is just a big important part of your education, because you know it sets the standards for what you want to do with the rest of your life," she explained.
The Escalante camp finished with a family picnic.
"We want to make sure the families are included in the programing that we do and are included in the conversations and really to help stimulate conversations within the home," said Harper.
And Heather's mother, Francine Chambers is on the sidelines cheering for her daughters success.
"There are so many opportunities out here that I didn't have so anything she can do I am truly behind her … you know there's no limits and I think this is a great opportunity for them to see leadership and how they can become leaders as well," she explained.
The Jaime Escalante LEADership Camp accepted nine high schoolers from Fluvanna, Albemarle and Charlottesville this summer.
Click here for more information about the camp.