Their American Life: Learning English
Posted:
Updated: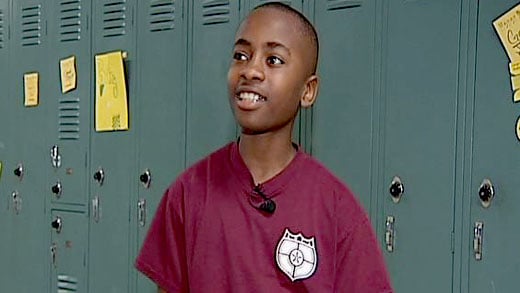 Samuel Bwesieze is sixth grader at Jack Jouette Middle School and refugee from Tanzania.
Adnan Al-Samaree is sixth grader at Jack Jouette Middle School and refugee from Iraq.
A critical step for refugee families who've resettled to build their American life comes with the kids in school trying to learn English. There are lessons learned by the children, and passed on to the whole family.
Samuel Bwesieze and Adnan Al-Samaree came to central Virginia as refugees, one from Tanzania and the other from the Iraq. Both are now sixth graders at Jack Jouette Middle School.
"It's better because I'm getting more English; before I couldn't understand anything," said Al-Samaree.
Both students moved with their families to Charlottesville about a year and a half ago with help from the International Rescue Committee (IRC).
"The younger the child, the easier it is for them to transition in terms of language, in terms of acculturation academically," stated Mirna Dickey with the IRC.
English as a second language (ESL) teachers say the better the kids can read and write in their native language, the easier it is for them to start reading, writing and understanding English after they work through a 'silent' period.
Courtney Stewart of Albemarle County Schools said, "You understand more than you can produce and we have to create an environment where production of language is in a safe place."
"Sometimes I don't understand all the words but I can ask the teacher and they can tell me and help me," stated Bwesieze.
It can take years for ESL students to catch up.
"Imagine yourself going to China and going to chemistry class and you feel trapped within your body because you can't express what you are understanding," said Stewart.
During the transition, teachers encourage students to express themselves through art or in group projects.
Stewart said, "It's thrilling. Its really exciting to see how quickly they learn and how capable they are."
"They were talking to me and some of the words I didn't understand. Now I can understand everything they say," said Adnan Al-Samaree.
Inevitably students bring all the English they learn at school home to their parents. Learning a new language together is a key piece to building their American life.
Virginia along with about 25 other states all have the same standards for teaching English as a second language. Click here for more on the standards.